Right under kitchen remodeling, bathroom remodels top the charts for the most popular renovation projects. From new tile flooring to retiling a shower, get inspired with these 35 luxury bathroom remodeling ideas.
1. Carefully Pair Textures and Colors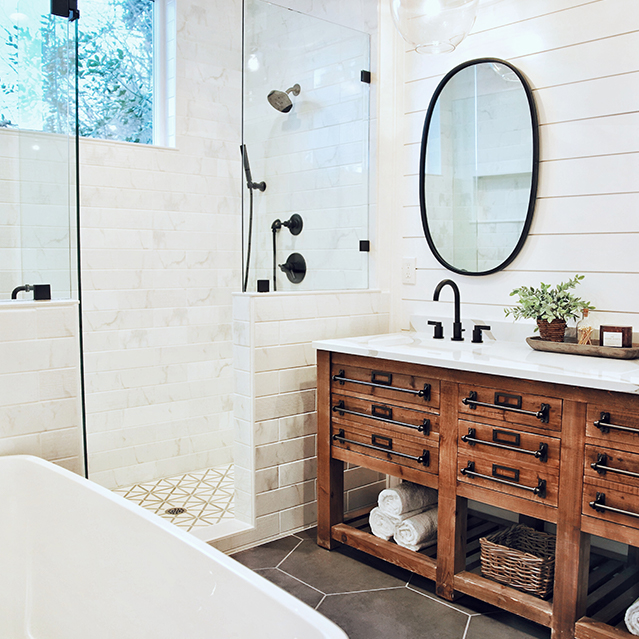 Add dimension with a complementary blend of color and textures. Your bathroom doesn't have to be monochromatic to look professionally done.
2. Add an Accent Wall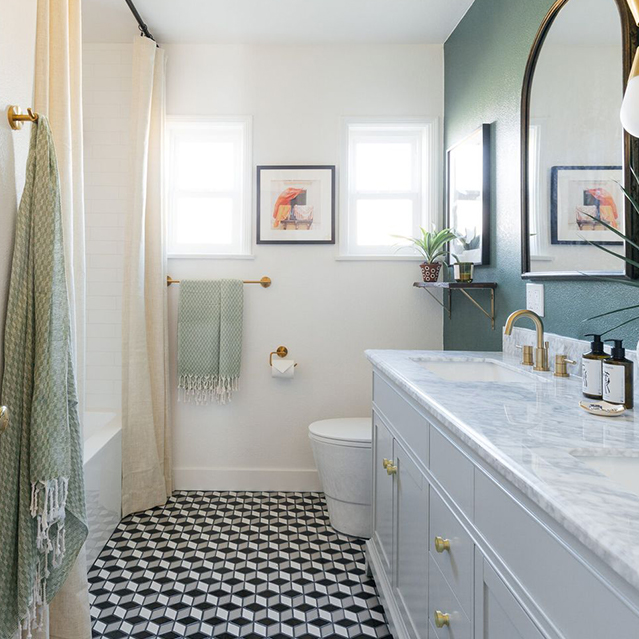 Photo by House Beautiful
Play on the popular accent wall trend generally used for living rooms and bedrooms.
3. Create a Regal Appearance With a Clawfoot Tub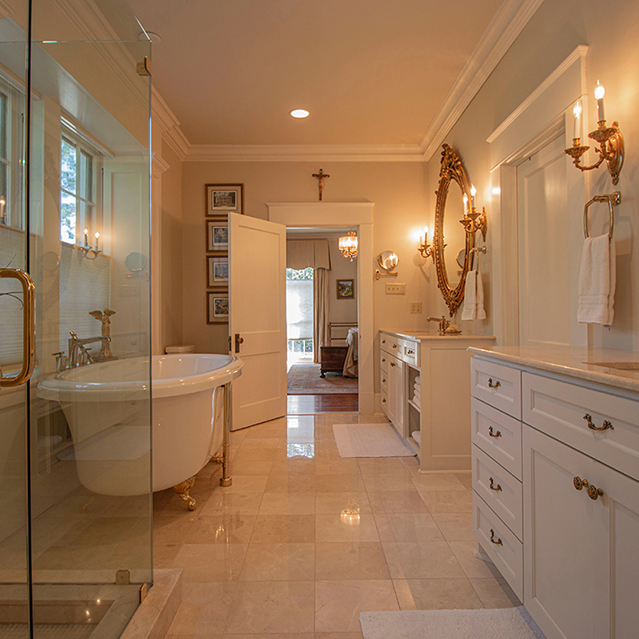 For a stately look, consider upgrading your bathtub to a clawfoot tub.
4. Carry the Color Scheme to Bath Mats and Towels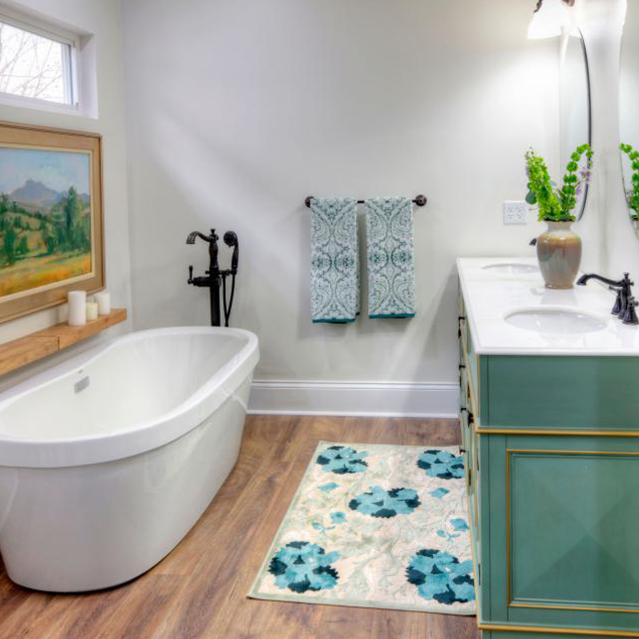 Photo by HGTV
Don't ruin the work you did to establish a color scheme in your bathroom with mismatched accessories like decorative towels and bath mats.
5. Make a Bold Statement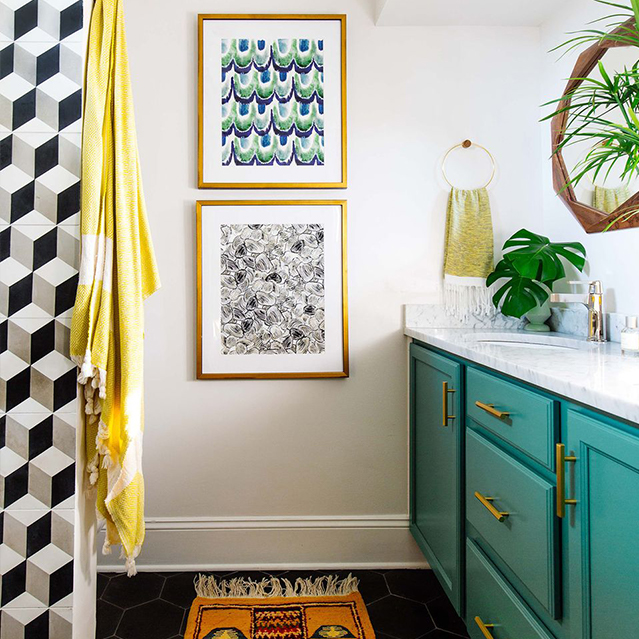 Photo by House Beautiful
Make a bold statement with vibrant cabinetry and striking tiling.
6. Consider Tiles With a Textured Look and Feel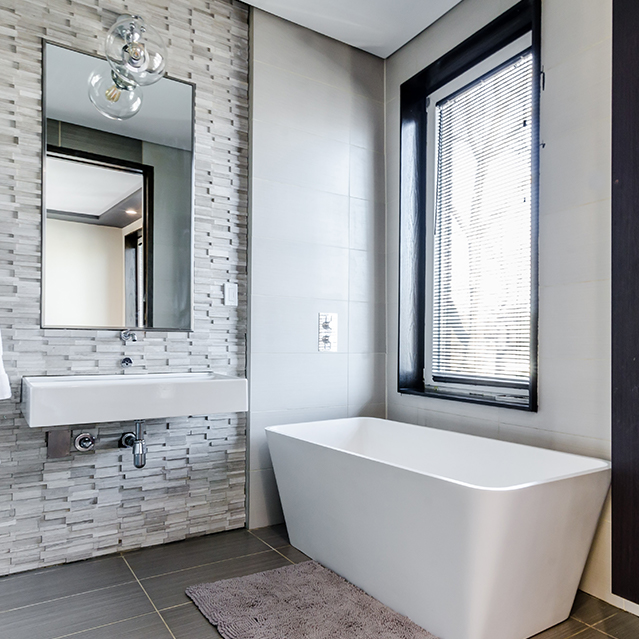 Give your space dimension with a textured tile.
7. Go With Marble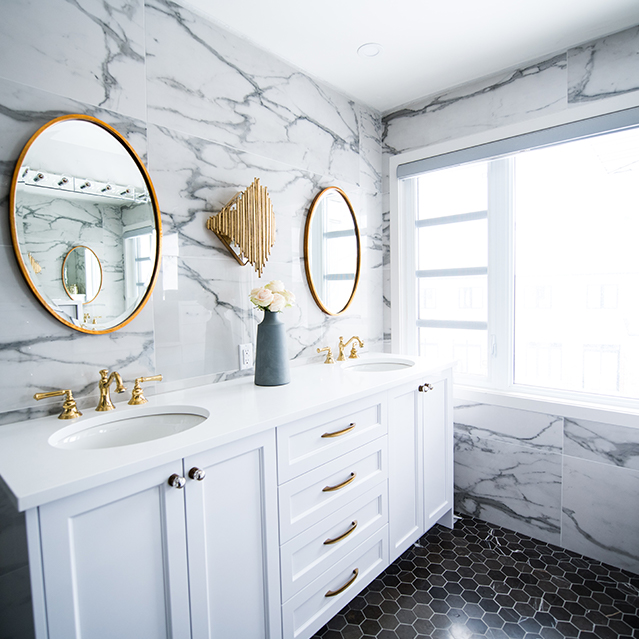 For a refined modern look, go with gray and white with marble tiling. Accent with gold for the perfect finishing touch.
8. Paint the Ceiling
Take your color scheme to the ceiling with a bold ceiling color. Add in lots of light fixtures to avoid making the space too dark and drab.
9. Liven It Up With Greenery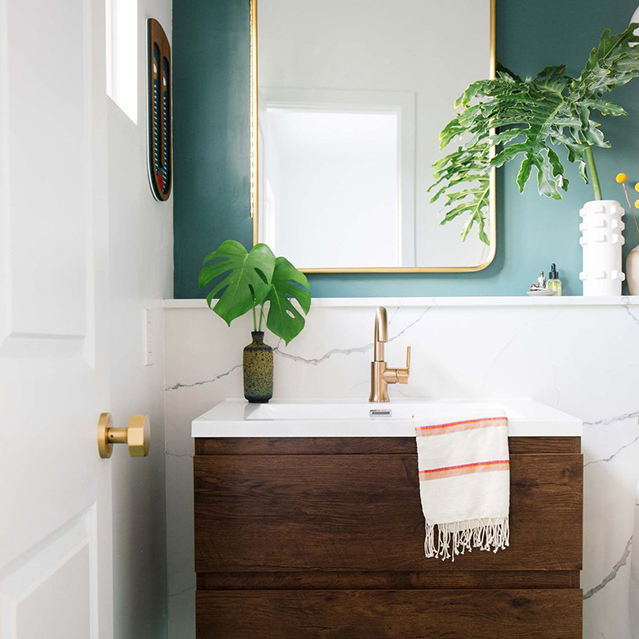 Photo by House Beautiful
A few plants (fake or real) can take the look and feel of your space a long way. Adding greenery to your bathroom acts as the perfect natural decor.
10. Pick Sinks You Love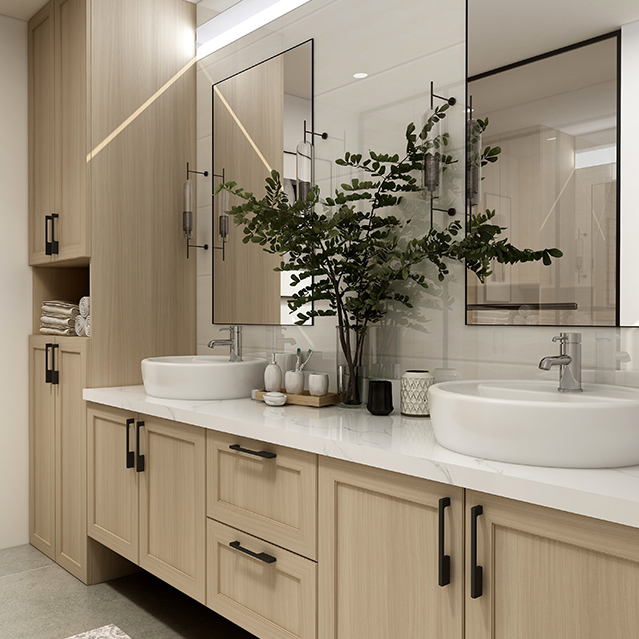 No need for basic sinks. Pick out sinks that are unique and interesting to bring functional intrigue to your space.
11. Make a Meditative Space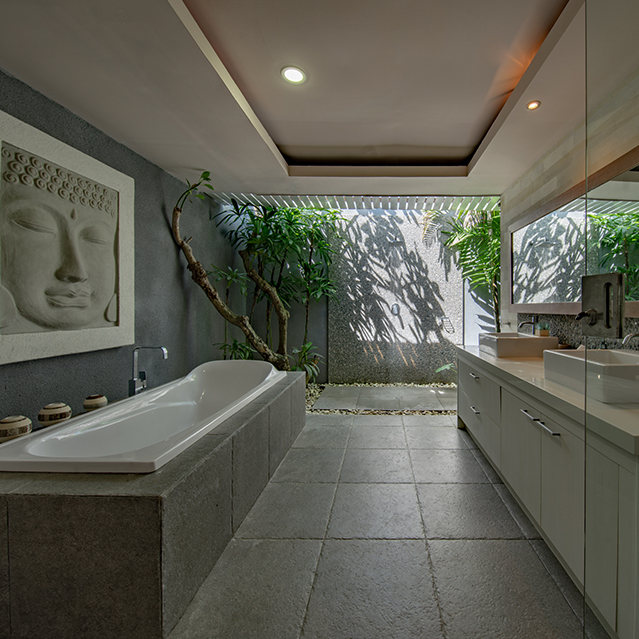 Your bathroom doesn't need to be a stressful space where you rush to get ready each morning. Add elements that connect you with nature to make your bathroom relaxing.
12. Create a Spa-Like Space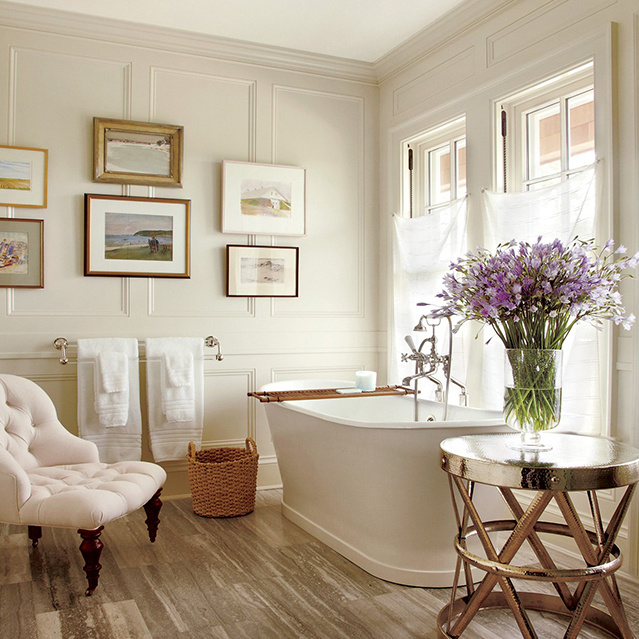 Photo by Clever
Take self-care to the next level with a bathroom space focused on relaxation and rejuvenation. Include a seat and a tub with a tray to create an inviting space.
13. Get Back to Nature With Rustic Elements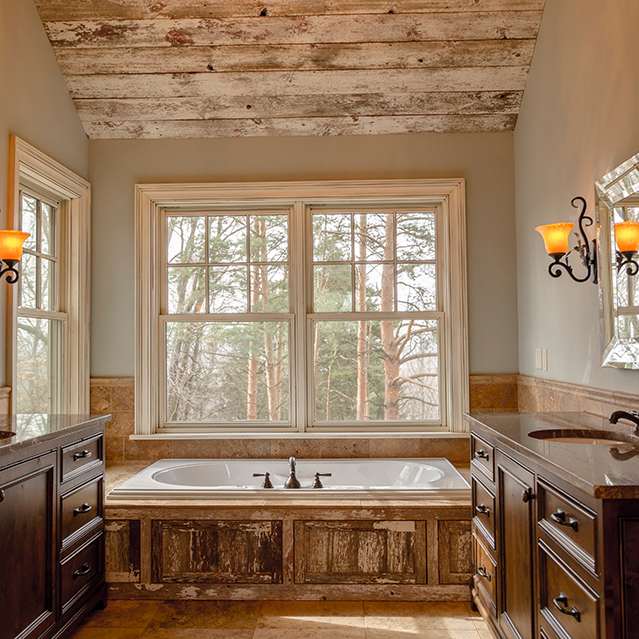 Bring the outdoors in with wood-paneled ceilings and rustic wood accents.
14. Pair Green and Gold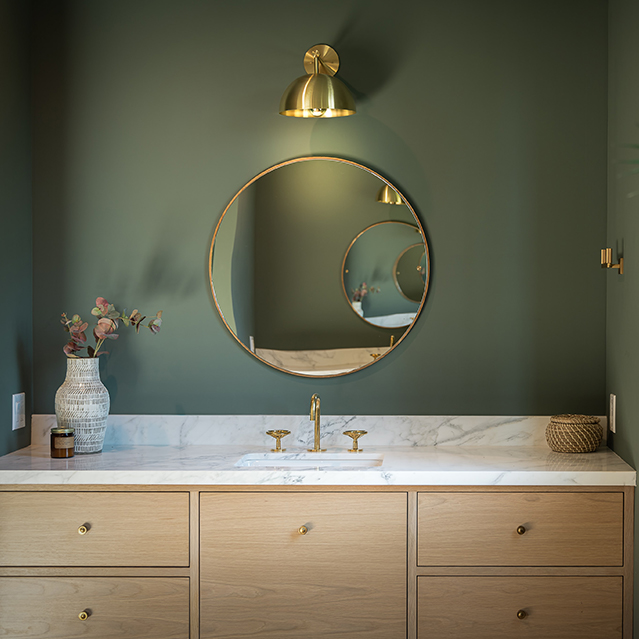 Pair green and gold for an ethereal feel.
15. Don't Forget the Details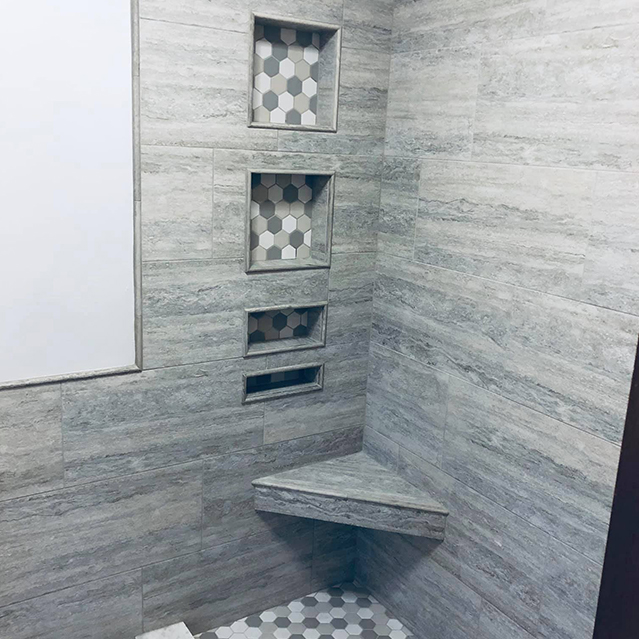 Focus on the details like the tiling in this showers cubbies.
16. Give Yourself Enough Space for Toiletries.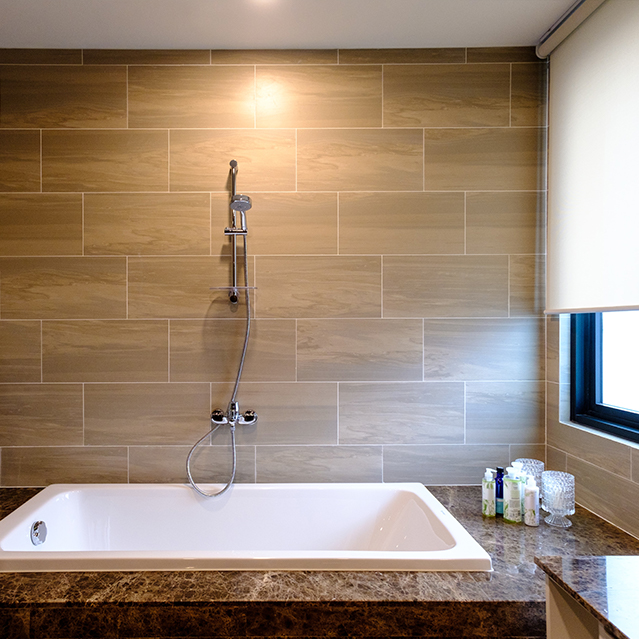 Consider a bathtub with extra space on the sides to keep all your go-to toiletries within reach.
17. Make the Tub Center Stage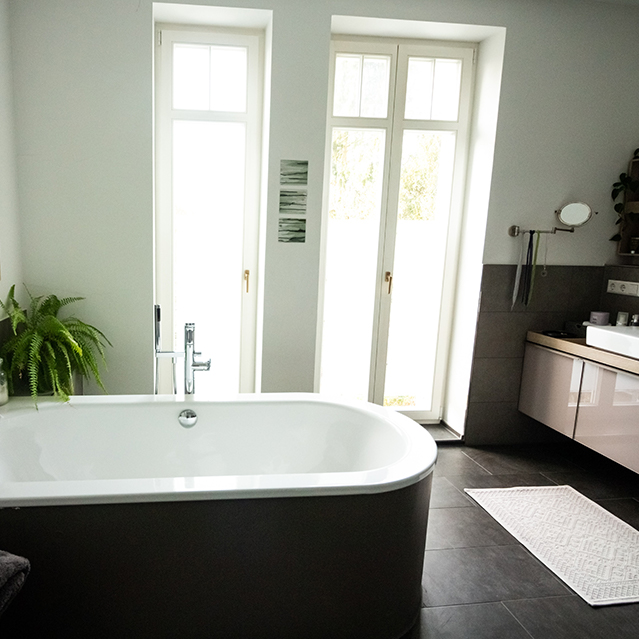 Think about layout when you plan out your bathroom remodel.
18. Pick Accent Colors and Stick With It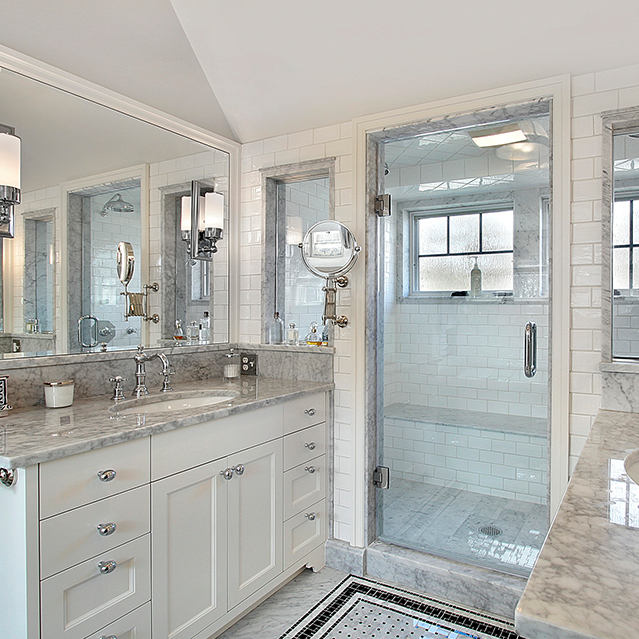 Part of the battle of a professionally designed space is continuity. For accents like mirrors, faucets, and knobs, you should pick
19. Let in the Light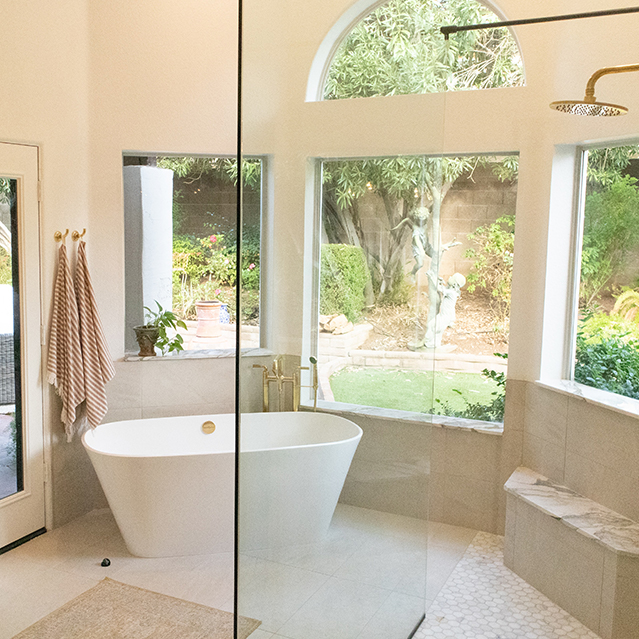 There's nothing that will make your space feel airier than plenty of natural light.
20. Pick Intreseting Tiles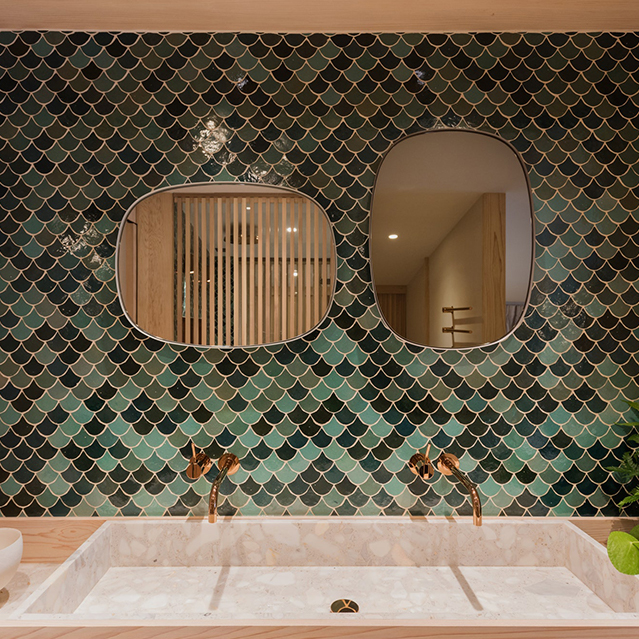 Photo by Clever
These tiles in blues and grays create an interesting fish scale look.
21. Take Advantage of Open Space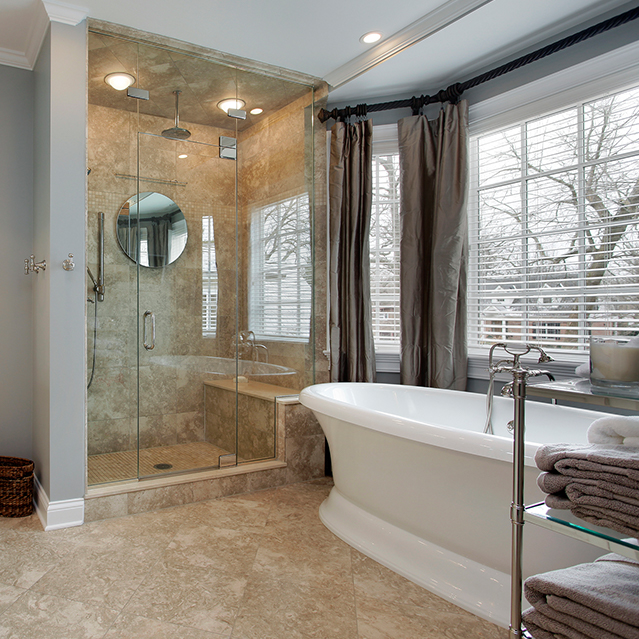 If you have the luxury of a large bathroom, don't overcrowd it with fixtures.
22. Don't Forget Floor Tiling in Showers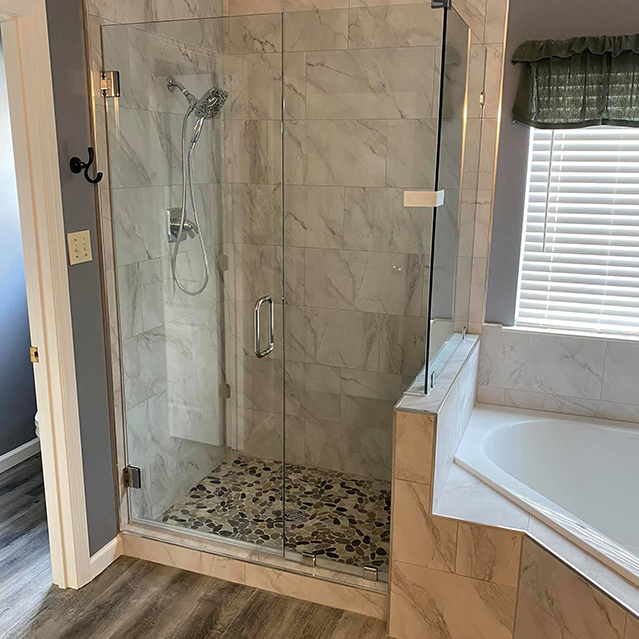 Pick an interesting tiling for your shower floor, just don't forget the need for texture to avoid slipping.
23. Add a Chair Rail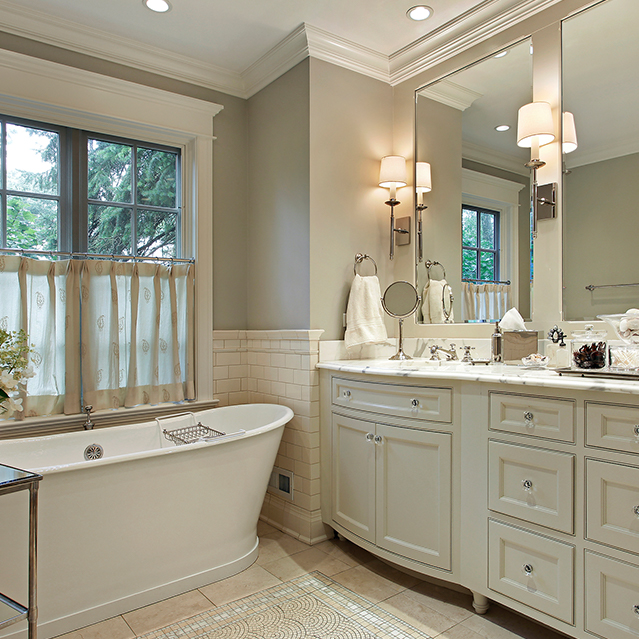 Add a chair rail with brick to split up your space, especially if you have particularly tall ceilings.
24. Go for Minimalism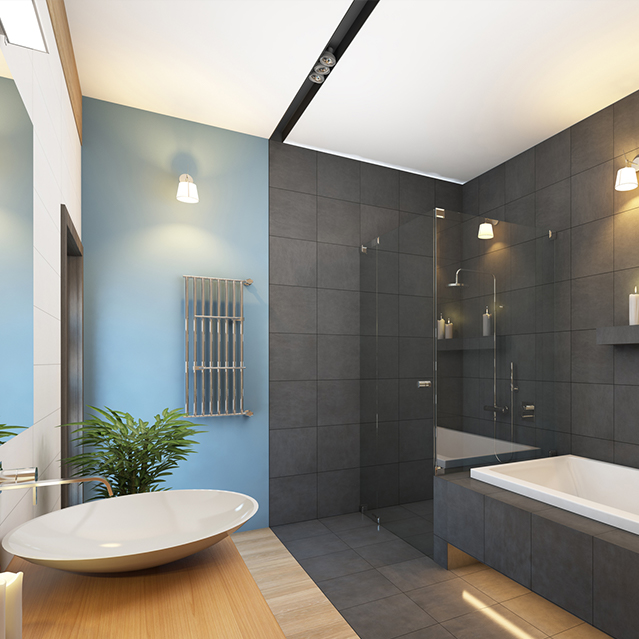 This minimalistic bathroom is still plenty interesting visually.
25. Use Black and White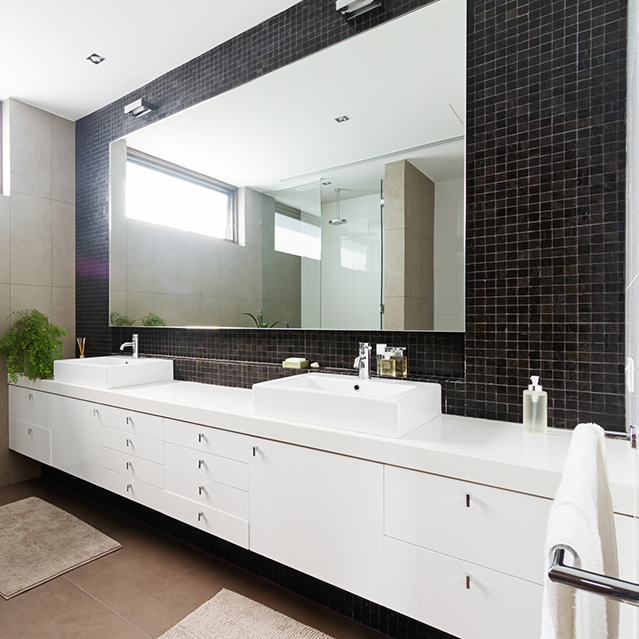 Using black and white as neutral colors gives you the option to switch up accent colors later on.
26. Don't Forget Your Mirror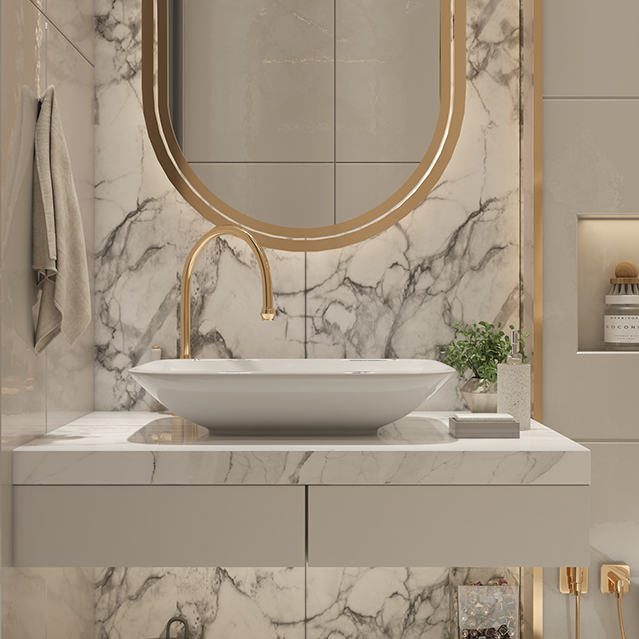 The right mirror can complete the look of your bathroom.
27. Add a Chandelier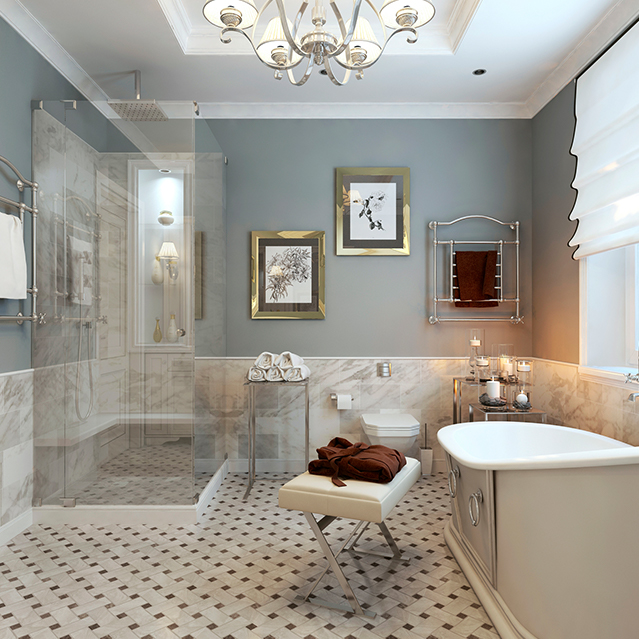 For a regal look add a chandelier as a finishing touch.
28. Upgrade Your Window Blinds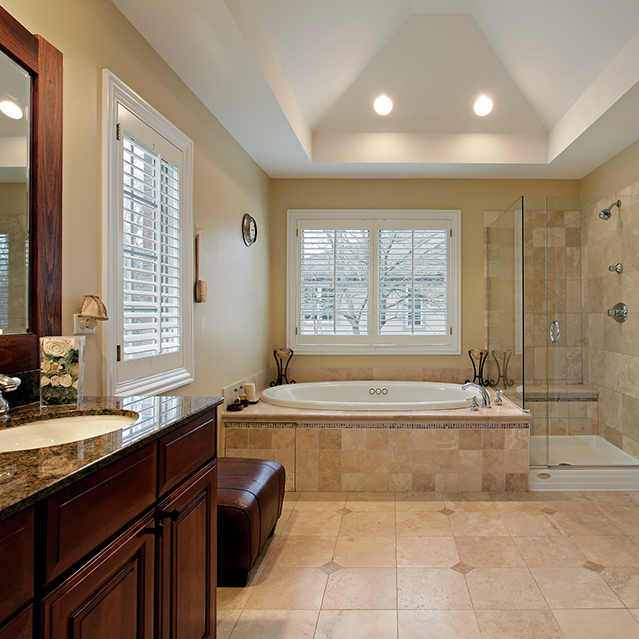 Consider changing the blinds in your bathroom to a style you prefer.
29. Add Interesting Light Fixtures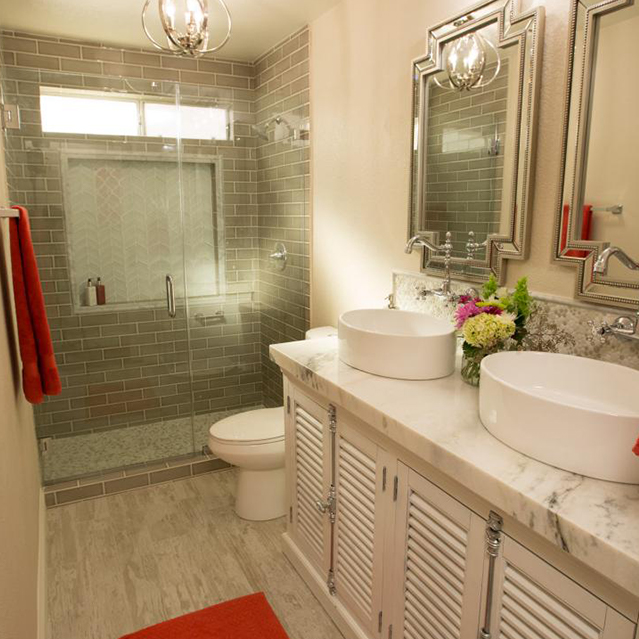 Photo by HGTV
Light fixtures are a simple change you can make that can add to the feel of your bathroom.
30. Go With White Cabinetry and Statement Countertops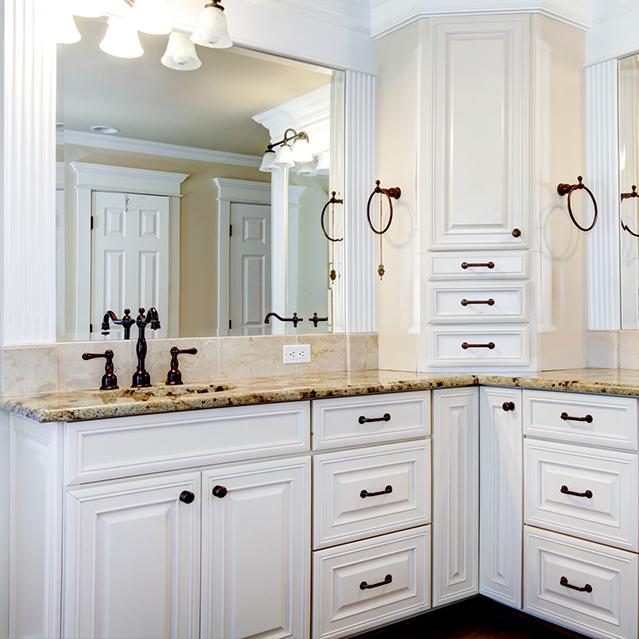 If you choose white cabinets, pair them with a countertop that contrasts.
31. Have a Water Closet Installed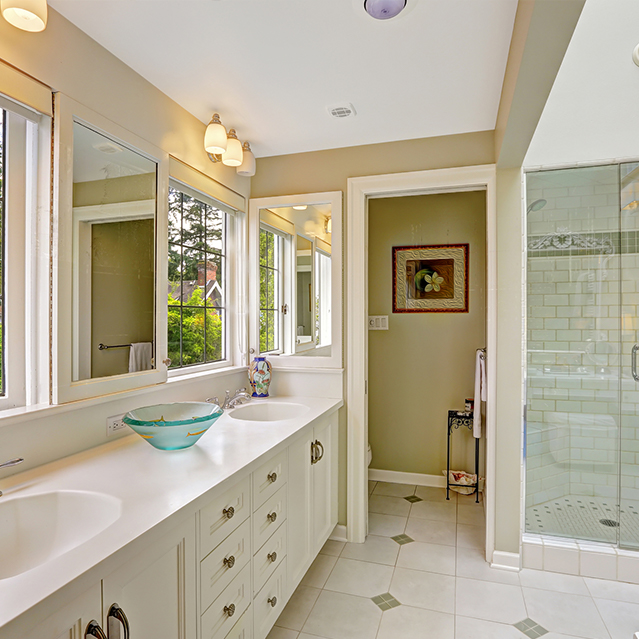 To separate the toilet from the shower and tub, consider having a water closet installed.
32. Add a Mirror to Make the Room Appear Larger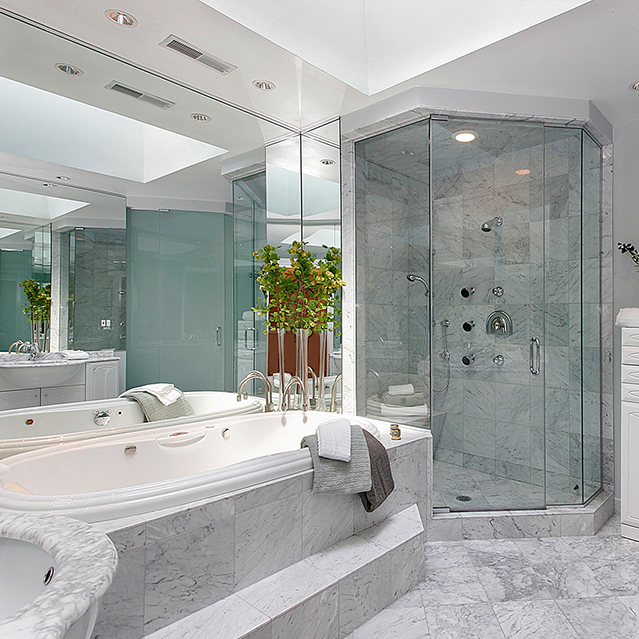 Adding a large mirror to the bathroom can make the room appear larger.
33. Add Potted Plants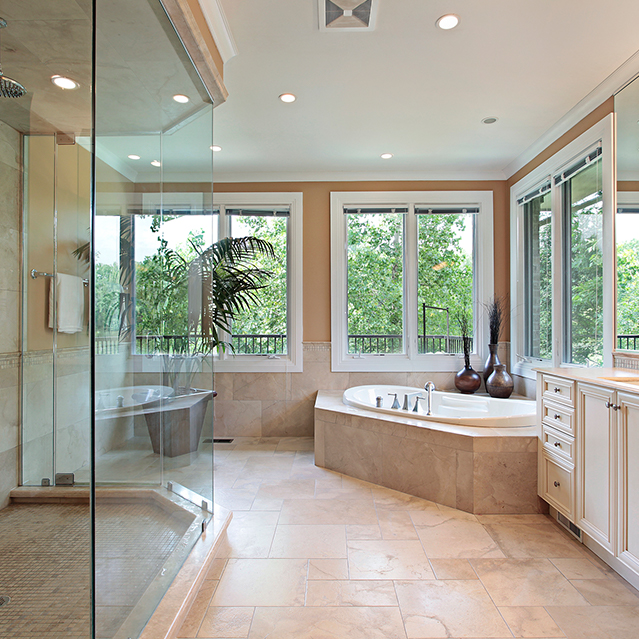 Add potted plants for natural decor.
34. Install a Tub With Character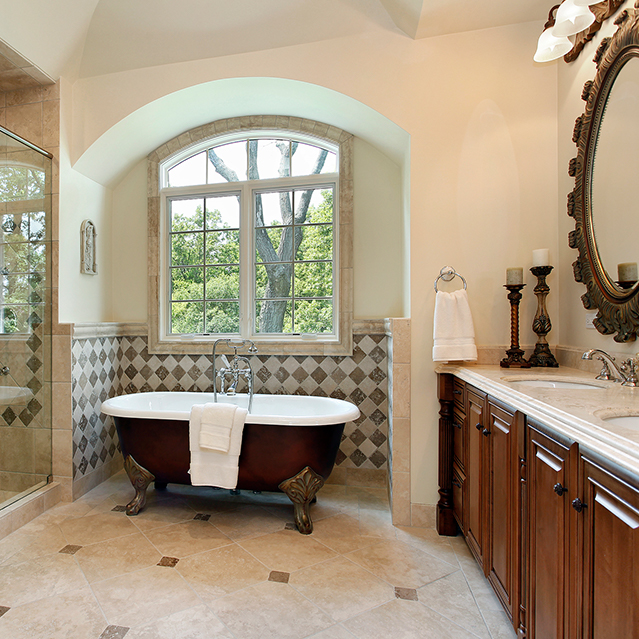 One way to add character to the bathroom is with an interesting bathtub.
35. Go With Neutral Blue-Gray Walls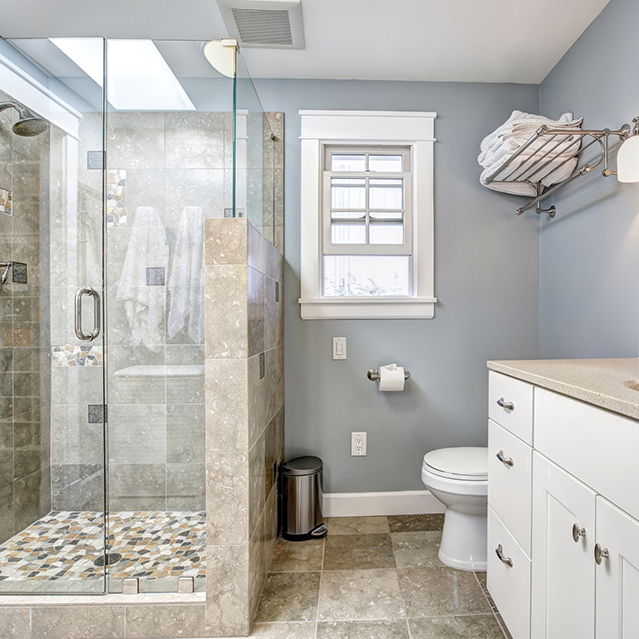 Neutral blue-gray walls go well with almost any color.
Ready to Renovate Your Bathroom?
If you're planning to completely renovate your bathroom or you just want to make minor changes, we recommend you hire a professional. A team of experts can give you the magazine-quality home finishes you're looking for. Our professionals can transform your bathroom to match your exact vision. Contact us today for a free bathroom remodeling quote.