Home renovations are a great way to make your home more enjoyable for you to live in. On top of that, they can add a lot of value to your home. The following luxury home renovations are ones that you'll want in your house.
Renovation #1
High-Tech Kitchen
Technology is playing an increasingly important role in the kitchen. That doesn't just mean appliances, although having the latest high-end appliances can certainly add value to your home. Lighting under the counter can provide a modern feel to the kitchen while also making it easier to find items in the kitchen drawers. A tech command center can be a great way to manage mobile devices that are used in the kitchen, such as a charging station for a tablet used for recipes.
Renovation #2
Luxury Technology in the Bathroom
Bathrooms are a very popular renovation, and for good reason. They're not the most entertaining of rooms in the house, but we spend a lot of time in them and it's important for them to be not only comfortable, but also luxurious. A good way to add luxury to a bathroom, especially the master bathroom, is to upgrade the technology in the bathroom. Bidets are increasingly popular, as are heated towel racks. You can also upgrade the master shower by adding a second shower head.
A Relaxing Sauna

Saunas are great for your health. They can help to improve your circulation, improve overall cardiovascular health, and even make your skin look great. Adding a sauna to your home, either in the master bathroom or elsewhere, can add both value and luxury to your home.
Underfloor Heating
Heated floors are a staple of Korean homes and have been for centuries. The luxury and comfort that comes with heated floors has made its way to the United States, primarily in bathrooms. No one likes stepping on cold bathroom tile. Underfloor heating can help to keep the floors warm so you can step onto pleasantly warm floors heated by water pipes and electricity instead of having a chilly surprise in the morning.
Renovation #3
Backyard Entertaining Area
A deck in the backyard can be a great addition to any home. Not only does it add value to the home by adding functionality to the backyard, but it's also a great place for you to entertain family and friends. A luxurious deck can include features such as a hot tub, an outdoor kitchen for cookouts, comfortable and stylish seating, and a cover that can provide shade and protection from weather.
Swimming Pool

Adding a swimming pool can spruce up your backyard. Not only will you and your family and guests get a lot of enjoyment out of it, but it also adds a lot of value to your home. A pool of any size, whether it's a large pool or a smaller lap pool, can make a luxurious addition to your backyard.
Renovation #4
Home Office or Library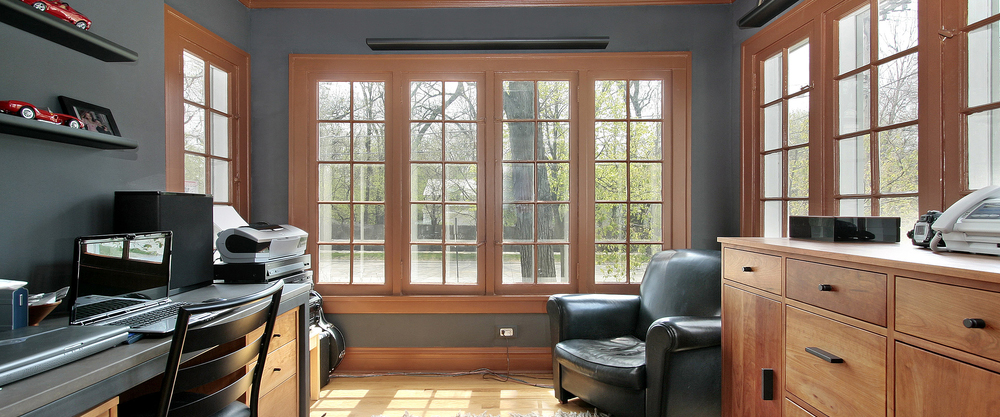 The number of people working from home has been on the rise even before the coronavirus pandemic. Therefore, adding a dedicated home office or home library can add a lot of value. A home office needs to have excellent Internet connectivity but also needs to be private so that anyone using it can concentrate on work. Likewise, a library may not need a high-tech setup, but it should be a quiet place to enjoy a good book. Such a room can be an add-on or created out of an already existing room if there's enough space in your home.
Renovation #5
Finished Basement
In many homes, a basement is just a place for storage. However, a basement can be so much more than that. When finished, a basement can be a more functional space as well as a great place for entertaining.
Home Gym

A home gym can be a great addition to any home. It can be located in the garage or the basement, depending on where your home has the most space. It's a great place for anyone to stay fit at home.
Home Theater

Home theaters aren't just for movie buffs. They can added luxury to a basement or other part of the house while making watching a movie a more comfortable and enjoyable experience.
Ready to Renovate?
Contact us for a personalized quote.