Keeping your belongings neat while they're stored can help keep your items and clothing in better condition. Plus, when your closet is organized and tidy you can easily find what you need. This saves you time and stress looking for a lost shoe or blouse. But to set up an efficient closet, you'll need the right storage components and layout to maximize your space.
Check out these 22 inspiring closet renovations to kickstart your latest home redesign project.
1. Install a Window Seat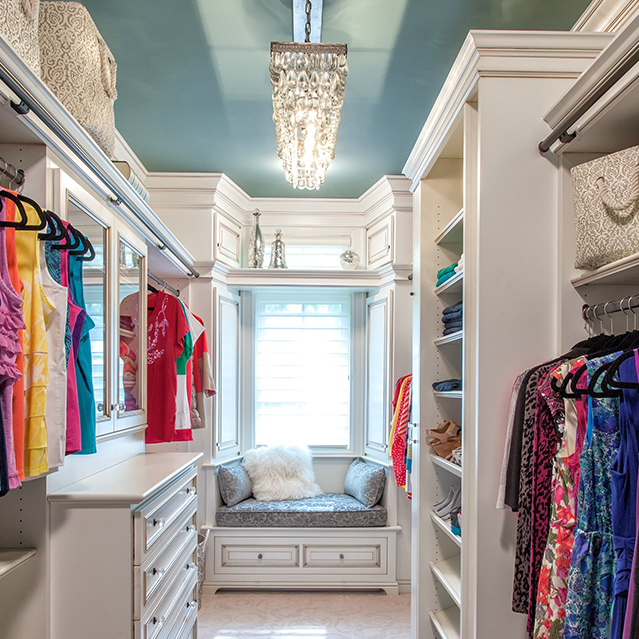 Photo by Better Home and Garden
If you have a window in your closet, consider having a window seat installed. This gives you a place to sit while you try on shoes. Plus, it can upgrade the look and feel of your closet space.
2. Add a Built-In, Fold-Out Iron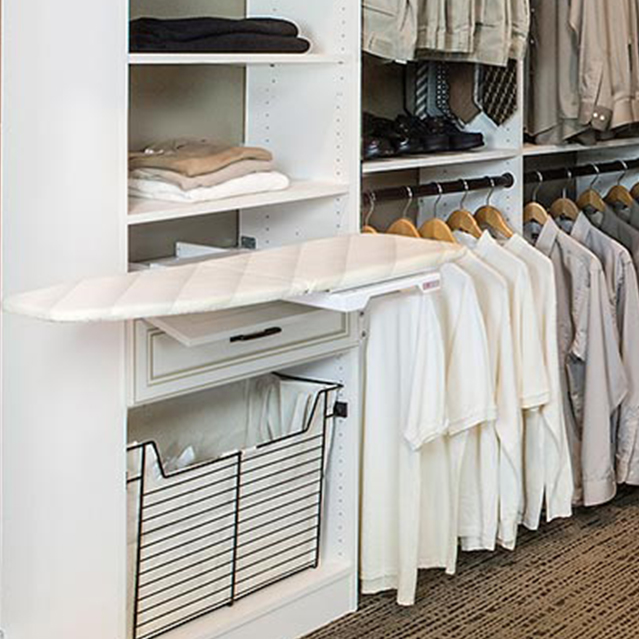 Photo by Closet Works
Go all-in on functional closet renovations with a built-in, fold-out iron. You can take it a step further by adding in a pull-out laundry hamper as well.
3. Make More of Your Space With Sliding Hangers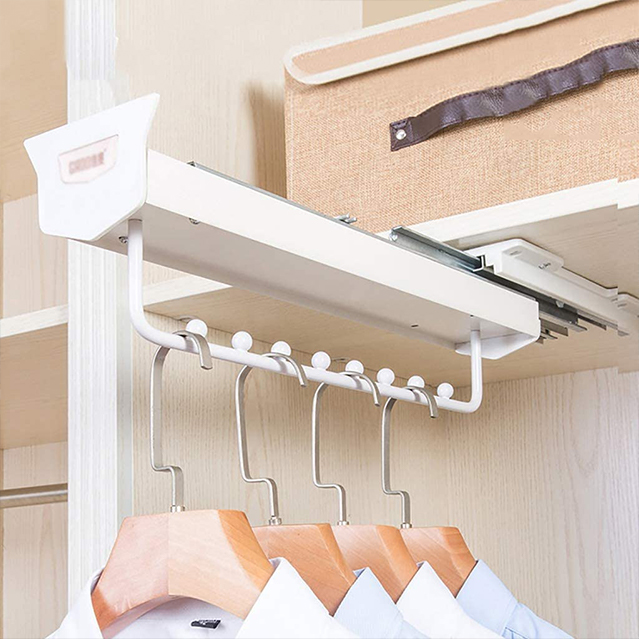 Photo by Amazon
If you're on a space budget then sliding hangers are the perfect solution. Sliding hangers, otherwise called pullout racks, give you a way to stow away multiple pairs of pants or shirts on a hanger that slides straight back into a cubby in your closet. When you want to select a clothing item you slide it out and when you're done you stow it away. Easy as that.
4. Add a Puck Lighting System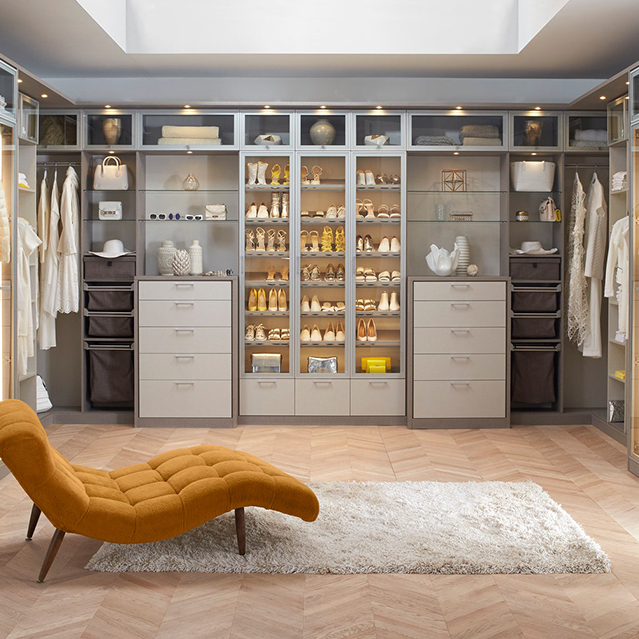 Photo by Clever
Puck lights, small oval or round LED lights, can easily be mounted in the drawers and cabinets in your closet. These lights are perfect for illuminating all the corners and cubbies in your closet. There are even motion-sensing puck lights that will turn on when you enter your closet and shut off when you leave.
5. Organize By Clothing Type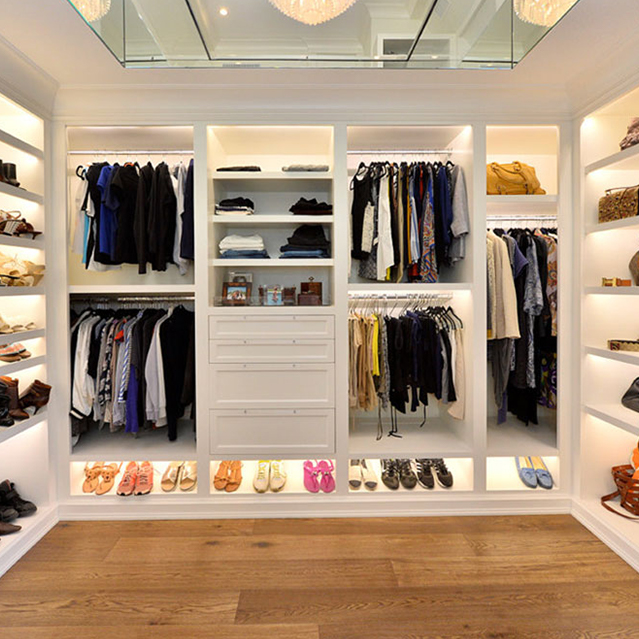 Photo by Impressive Interior Design
Chances are you know whether you're going to wear a dress or jeans and a t-shirt before you head into your closet. Keep your space organized by clothing type to make picking out the perfect outfit quick and easy.
6. Set Up a Stool or Chair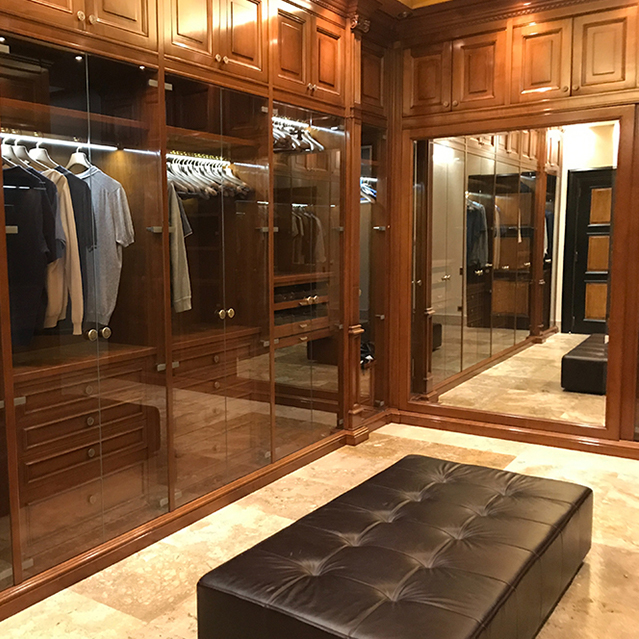 Whether you plan to have a vanity in your closet or not, having a place to sit while you pull on shoes is convenient. You'll want a small stool or chair that can easily be tucked away when not in use. Alternatively, if you have a large walk-in closet, you can find a statement bench to leave out in the area where you store your shoes.
7. Dedicate a Section to Shoes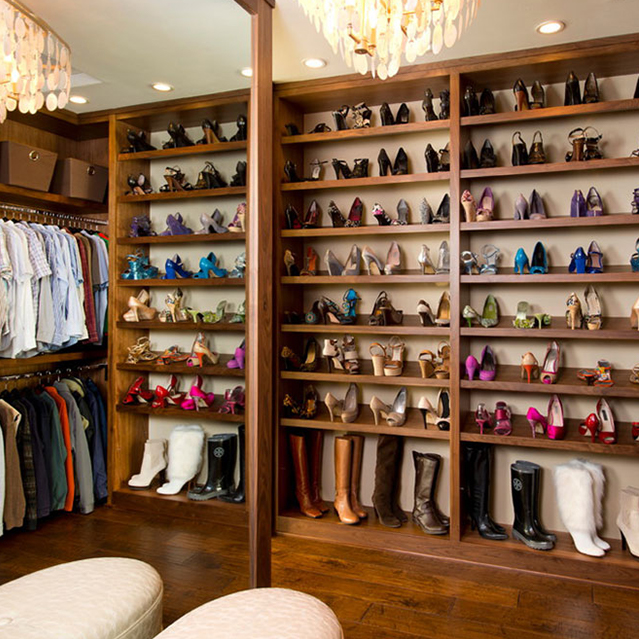 Photo by Impressive Interior Design
If you have the space to dedicate in your closet, consider reserving a wall where you can display them. This makes it easier to pick out the pair you want.
8. Add an Island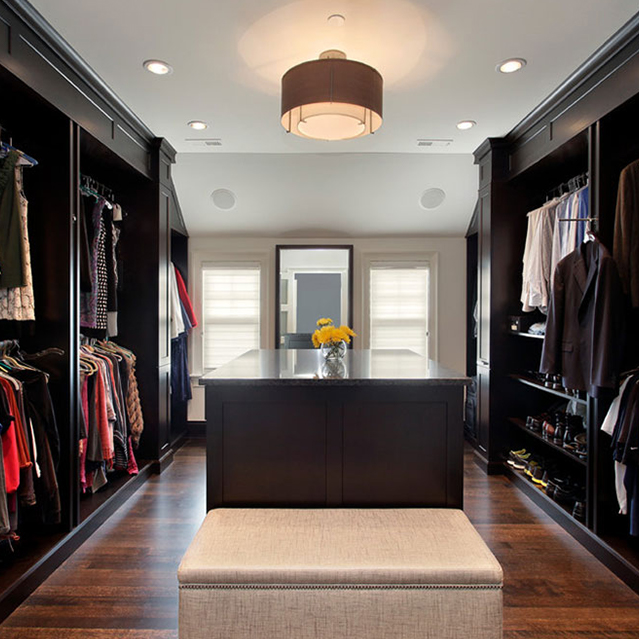 Photo by Impressive Interior Design
Adding additional counter space is never a bad idea. An island gives you more storage space to play around with, which is especially useful if the contents of your closet are ever-expanding.
9. Stow Away Items With Drawers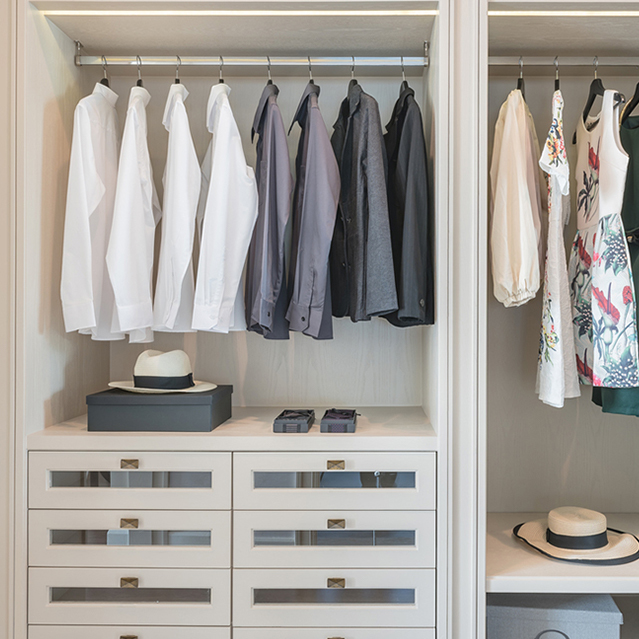 Most closet systems have the option to include sets of drawers. Drawers are useful for stowing away accessories and other clothing items that don't need to be hung. If you don't purchase a closet system, you can always place a dresser in your closet to use for drawers.
10. Pick a Functional Closet Door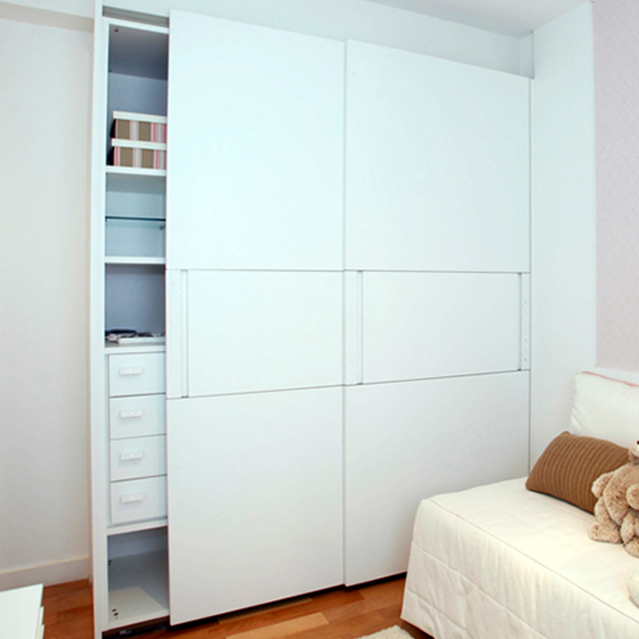 Closet doors can enhance the aesthetic of your closet while also acting as a functional feature. For example, if you have bi-fold doors on your closet that get caught on their track or slide off you can trade out those doors for French doors. Alternatively, if you have pivot doors or accordion doors, you'll likely find the style does little to help with convenience.
Consider the type of closet you have, whether a walk-in or reach-in, and pick a new door that works best for your closet type. Pocket doors and sliding doors are good options for reach-in closets. Meanwhile, French doors create a refined look for stylish walk-in closets.
11. Install a Mirror (Or Mirrors)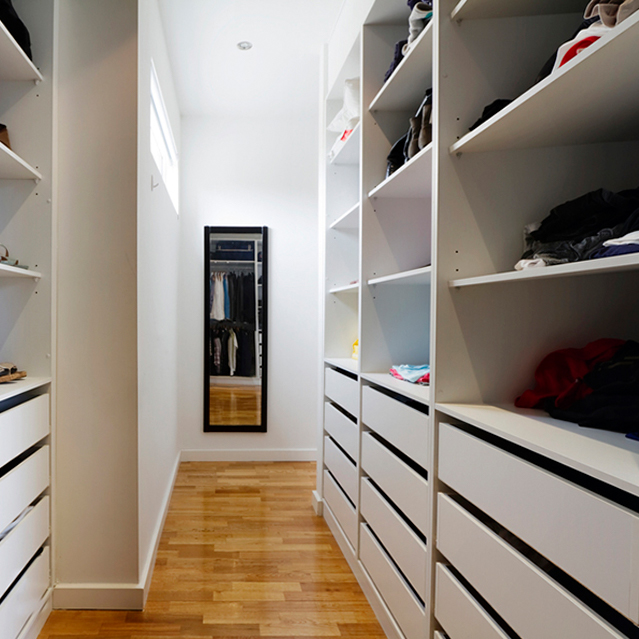 Having a full-length mirror available makes getting ready much easier. But, if you're worried about the feng shui of your bedroom, you might already know that having a mirror in your bedroom is not desirable. Relocating your mirror to your closet where it can be tucked away when not in use might be a better option.
Mirrors in your closet are a major convenience factor. Add a full-length mirror to empty wall space or the back of your closet door. Mirrors can also be placed above a vanity table or behind shelves to create an elegant look.
12. Think About Storage Options First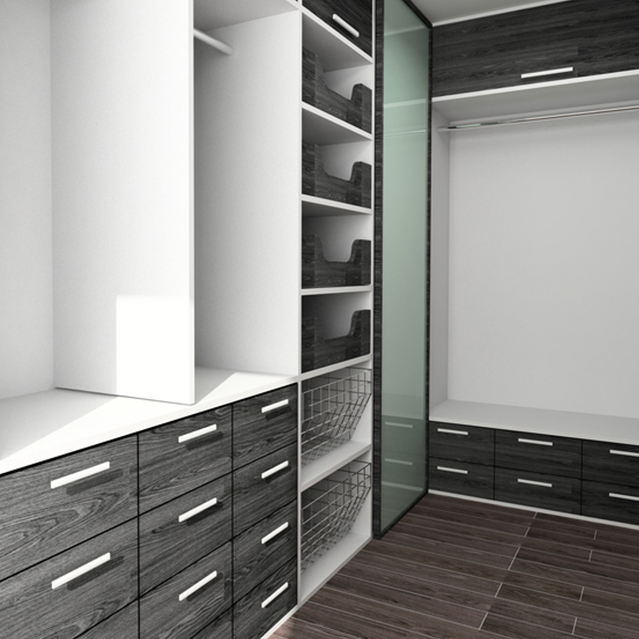 Before you begin renovating, start with a plan. Take inventory of your closet and determine what shelving and storage bins you'll need to properly accommodate all of your belongings.
13. Add Seating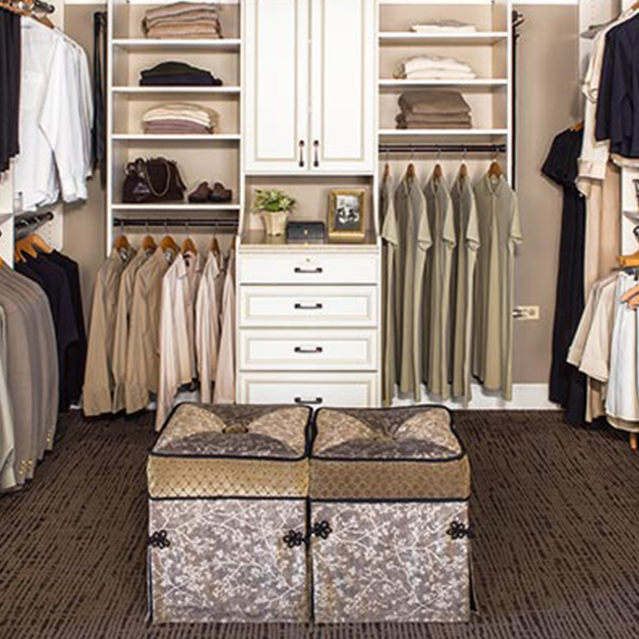 Photo by Closet Works
Add benches or stools for convenience. This gives you a spot to slip on shoes.
14. Don't Forget About Accessories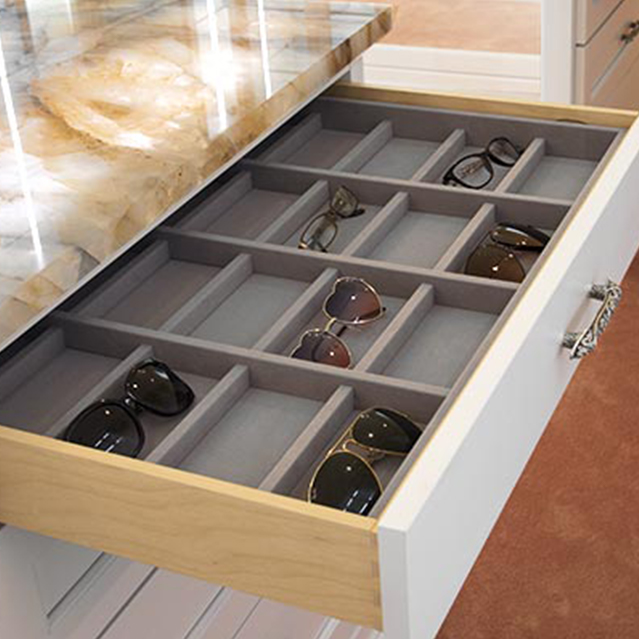 Photo by Closet Works
A drawer with an organizational insert is a great way to keep smaller accessories, like sunglasses or jewelry, carefully stowed away.
15. Designate a Functional Space to Pick Your Shoes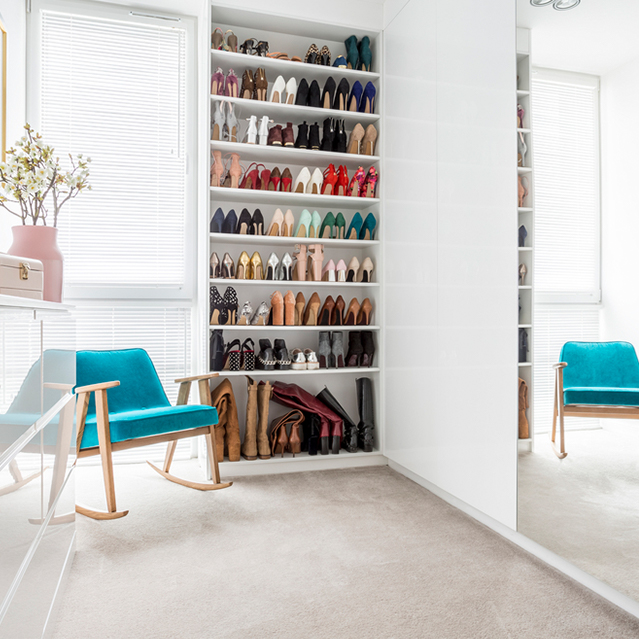 If your closet is large enough, positioning a mirror near your shoe rack gives you a spot to check your outfit in its entirety before you head out.
16. Stow Away Shoes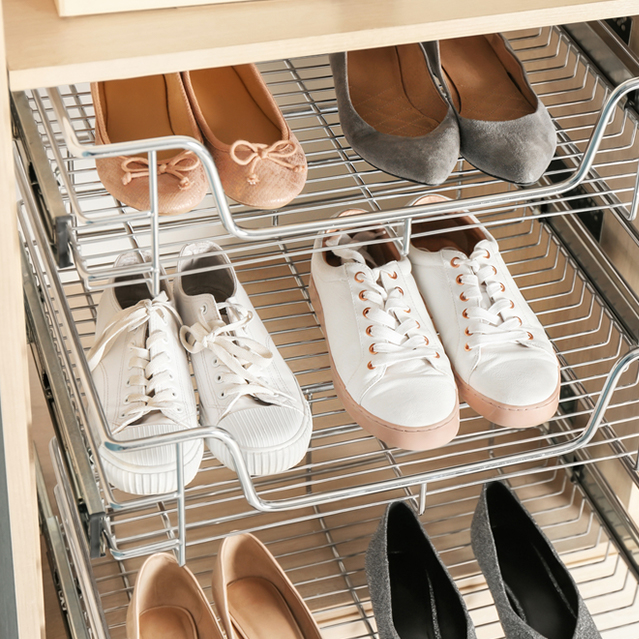 Stow away your shoes with sliding racks. Be sure to install enough sliding racks that your shoes aren't pilled on top of each other. This will keep your shoes in good condition and help them to last longer.
17. Install Frosted Glass Cabinets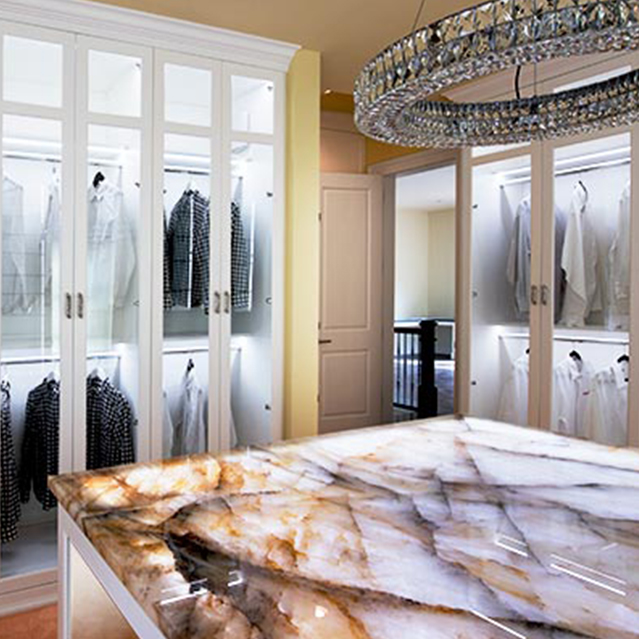 Photo by Closet Works
For your most prized or expensive possessions, you may consider installing frosted glass cabinets to keep these safely tucked away. This gives your closet a more sophisticated feel overall.
18. Keep Your Belts Organized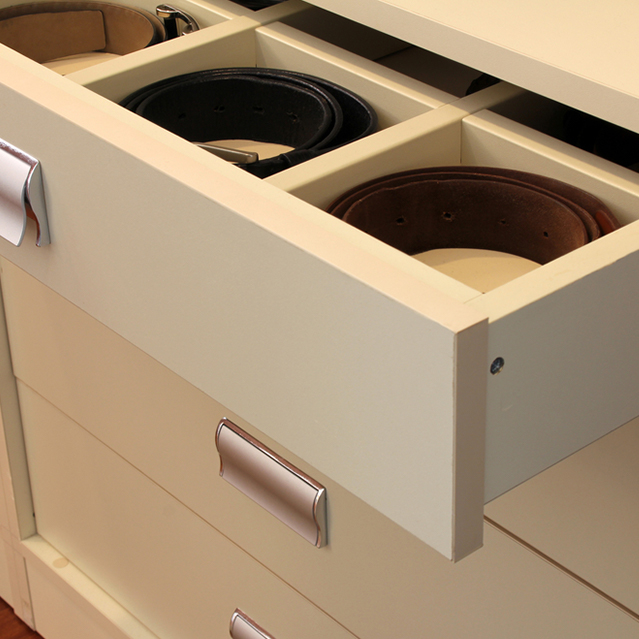 Keep your belts organized by storing them rolled up. Rolling your belts to store them prevents scratching and damage. The best option for belt storage is keeping them within a drawer. Other options for belt storage include hanging them using a hanger belt rack.
19. Be Smart About Small Closets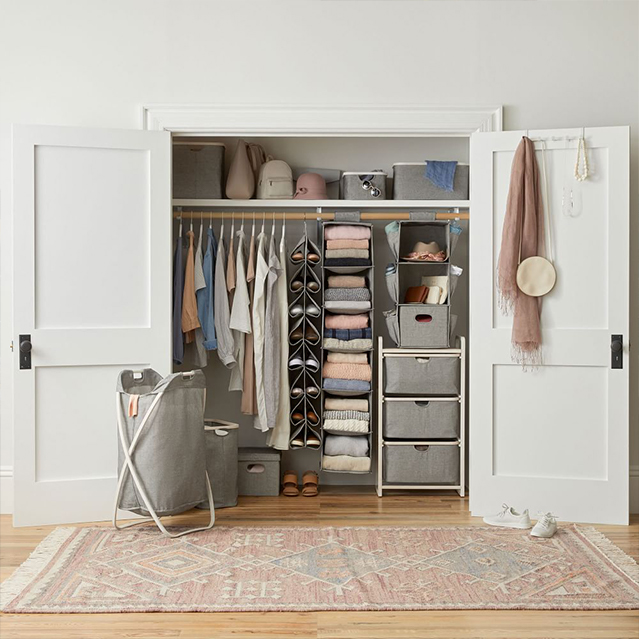 Photo by West Elm
If you have a smaller closet you'll need to get creative when it comes to storage. Using storage racks, hangars for shoes, and other organizational systems can help you make the most of the space you have to work with.
20. Group Like Items Together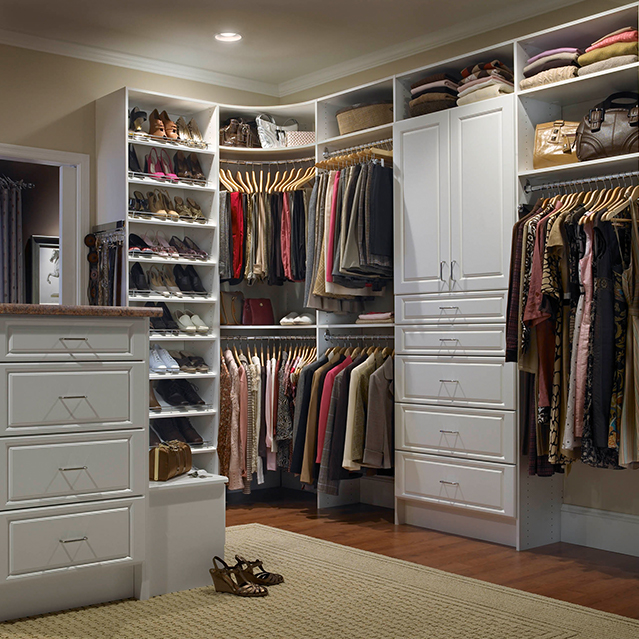 Photo by Closet and Beyond
Make picking out your outfit for the day quick and simple by grouping like clothing items together.
21. Organize by Color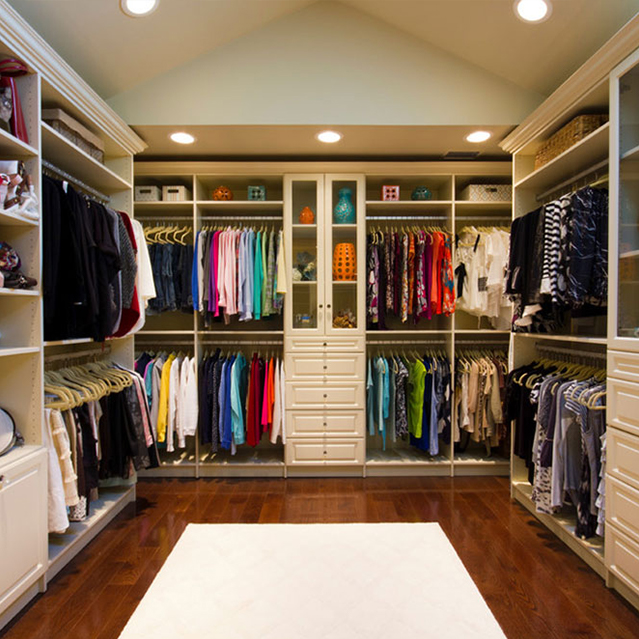 Photo by Impressive Interior Design
Alternatively, you can group your clothing by color.
22. Use Every Inch of Wall Space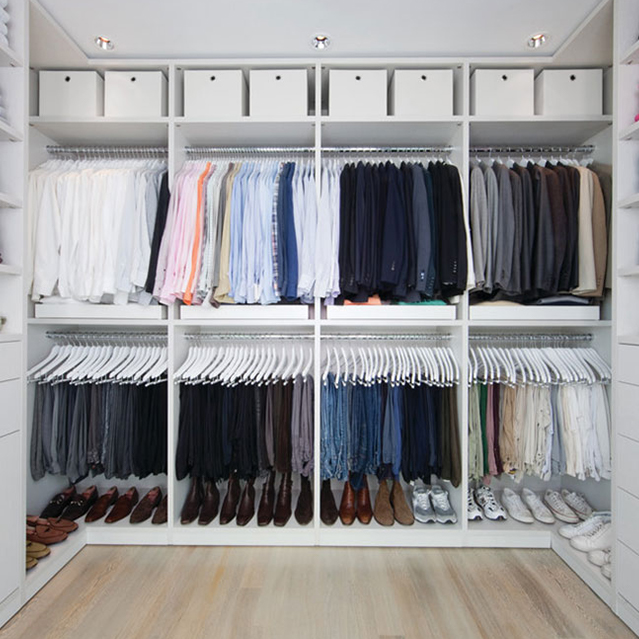 Photo by Impressive Interior Design
Installing shelving systems and multiple clothing racks gives you the ability to use all wall space in your closet from floor to ceiling. One way to do this is to store shoes at the bottom, including pants and tops in the center, and add shelves for bins at the top of the closet.
What You Should Know Before Starting Your Closet Renovation Project
There Are Different Closet System Types
Your personal needs will determine whether you need a fully customized closet or not. It's a good idea to plan out exactly how you envision your dream closet before getting started with this project. There are three main closet system types:
Out of the box solutions
Semi-custom closets
Fully custom closets
There may be premade closets that can fit in your space that will fulfill your needs. This will be the most budget-friendly option. Whereas, if you go with a fully custom closet you could be looking at a $700 to $1,000 renovation project. But, you get the exact closet you need customized to your individual needs.
Go For Adjustable Shelves and Rods
Adjustable shelves and rods are always preferable over permanent fixtures. This is because the owner of the closet may change or your needs may change. Adjustable shelves and rods can be altered accordingly.
Lighting Is More Important Than You'd Think
Lighting in a closet is more important than you'd think. Some closets aren't lit well enough so it's difficult to find what you're looking for. Others are lit with a bare lightbulb, making them seem unfinished and more like a cave than a closet. It's important to have any electrical features in a closet done professionally, as amateur wiring can end up being a fire hazard.
If you're redoing the electrical wiring in your closet for better lighting, it's a good idea to put in electrical outlets. That way, you can plug in an iron or a clothes steamer, or even charge a device.
A professional electrician should be able to hard-wire the closet so the lights come on automatically when you open the closet door. Another option is for the lights to be linked to a motion detector. This way, you won't have to fumble for the light switch to illuminate your closet.
Use the Space at the Top of the Closet Wisely
There's a lot of space in closets that go unused because it's out of reach. Some closets have shelves along the top where you can store items you don't use very frequently. However, another option is to install pull-down rods. You can have two rods for hanging shirts and shorter items of clothing layered on top of one another by having one rod placed closer to the ceiling with a hinge. Because the top rod is hinged, you can then pull down to access your clothing items stored out of reach.
Making the First Step Toward a Brand New Closet
Designing a brand new closet top to bottom is a headache waiting to happen. Once you identify your needs you'll then need to source the materials to build organizers or install custom-built organizers on your own.
Homeowners have two options when customizing their closet. Go it alone or get assistance from professionals. Professionals will be able to make quick and high-quality adjustments to your closet space, including handling any lighting fixture changes which can be dangerous for homeowners to tackle alone.
Contact us to get a quote for your custom closet renovation projects.