9 Inspiring Garage Renovations
Make the most of the space in your garage
Read Time: 4 minutes
Aug 22, 2022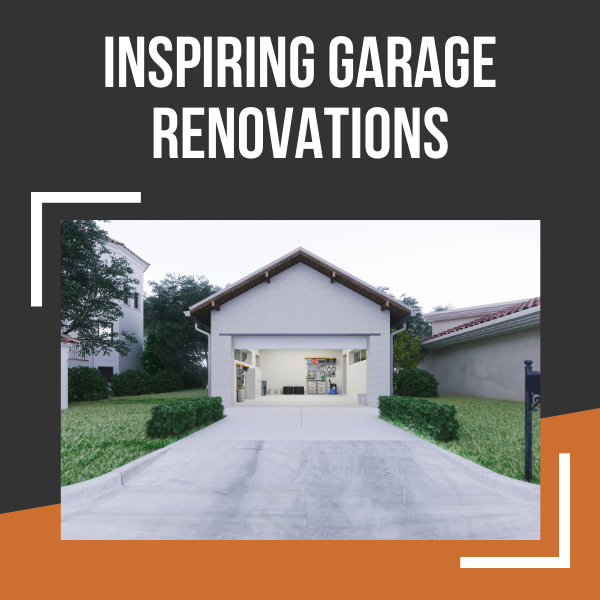 While garages were designed to house vehicles, homeowners often use them for so much more. They're storage spaces, protection for vehicles, work zones, play areas, and even apartments. If your garage currently isn't living up to its full potential, these renovations can help you to make the most of that space.
Idea #1
Create a Tool Wall
If you use part of your garage as a workshop, then hanging your tools on the wall can be an excellent way to keep them organized. A toolbox can easily get messy, which can make it difficult to find a tool when you need it. Hang a pegboard on the wall above your tool bench that you can attach hooks to. It's best if the hooks can be moved around as needed so that you can easily reorganize them to fit your needs.
Idea #2
Invest in Garage Storage
Many homeowners use their garages for storage purposes. It can be an excellent place to keep items that are useful for outside work. However, it's important to keep your garage storage organized so that it doesn't render the space useless for other things, like storing your car. Invest in storage. These can be cupboards installed along the walls or plastic tubs on shelving units placed against the walls. The important thing is that there's plenty of space to store everything and also keep it out of the way.
To truly get your stored items out of the way, consider installing rails on the ceiling of your garage into which the tops of tubs can be inserted. Ceiling storage can free up a lot of space.
Idea #3
Expand Your Pantry
Buying in bulk can be a great way to save money on food. However, many pantries aren't large enough to accommodate the larger boxes. Expanding your pantry into a section of your garage can give you somewhere to store those excellent savings from Costco.
Idea #4
Designate a Space for a Mud Room
Another option is to create a mud room area within your garage. This can be especially useful if you're primarily entering and exiting your home through the garage. A mud room at the door that leads into the house can give you a place to take off shoes and boots and hang coats and umbrellas without tracking any mud or water into the house.
Idea #5
Create an Additional Bedroom
Your garage doesn't have to be for storage at all. Even though it's designed for cars, a garage can be remodeled into a bedroom or an apartment. If you have an older child that wants their own space or in-laws living with you, a garage apartment can be a great way to keep them close while also giving them privacy and their own entrance and exit from the house. Plus, you could also rent out that room for a bit of extra cash.
Idea #6
Add a Home Gym
Another alternative use for your garage is to transform it into a home gym. If you don't need the storage space and can keep your car outside, then adding a home gym can help you meet your fitness and health goals.
Idea #7
Convert Your Garage to a Home Theater
A home theater is also a great addition to a home. It's something that the entire family can enjoy together and gives you a dedicated space to enjoy movies without interruptions. While some put their home theaters in the basement, the garage is another good place to locate this room.
Idea #8
Create an Entertainment Space
Having a dedicated entertainment space can be a great way to host guests. Some people have such entertainment spaces in finished basements. However, not every home has a basement or the basement may be used for something else, like storage or a home gym. In that case, locating the entertainment area to the garage is an excellent way to host friends and family.
Idea #9
Give Your Kids a Play Area
If you'd like your home to have a dedicated play area for kids, then the garage is a good location. It's on the same floor as the main part of the house so the kids are still nearby. However, their games and toys won't make a mess in the rest of the house, instead confined to the garage play area.
Turn your house into your dream home.
Contact us for a quote on your next home renovation project