Budget-Friendly Tips for Designing a Home Office
Create a space that is unique and productive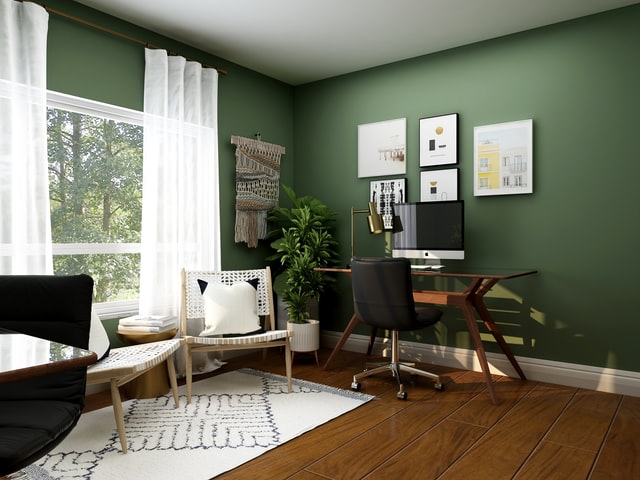 Home offices have a variety of benefits: they help you save time and enhance your productivity while staying connected to your family even during the working day. When designing a home office, it is important to create a space that fosters productivity and success.
Seven budget-friendly ideas for a home office
If you are planning to add an office to your home, you must make it luxurious and functional. Whether your home office is located in a small bedroom or the corner of your living room, here are some essential tips to create a productive workplace.
1. Create an attractive background for video calls
In today's digital world, a home office is a necessity for many as remote work is becoming more popular. Since most meetings are held over video conferencing, a quality background is essential to look professional on the screen. Make your space and background clutter-free; this will help improve your daily efficiency while giving you a professional look when consulting with co-workers, clients, or customers.
For an attractive and budget-friendly background, use these simple techniques:
Paint only your back wall a contrasting color (navy blue, Hague blue, violet, or grey).
Apply wallpaper to the back wall. You can easily find inexpensive wallpapers online.
Find a peaceful painting for the back wall.
2. Select a comfortable chair and a desk
Choosing a comfortable chair and an appropriate desk is crucial for a home office. A comfortable chair boosts your productivity and efficiency. You should invest in a desk that is at least 48" (120cm) wide, so you don't have to struggle with a confined space.
A good option is a sit-stand desk that is adjustable and comfortable. It can be altered according to your needs; you can lower it while sitting or raise it upwards if you want to stand while you work. This way, you prevent yourself from leading a sedentary lifestyle during your working week. By investing in a desk that allows for movement and mobility, you can stay active and energized during the workday.
3. Ensure adequate lighting
Lighting is essential in every room in your house, especially in a home office. A key tip is to try to incorporate as much natural light as possible in your workspace. Numerous studies have proven that natural light in office spaces improves worker satisfaction and productivity.
Adequate lighting boosts your mood and keeps you alert and awake when working. It can also have a great impact on the quality of your video calls and zoom meetings. However, avoid installing lights that can affect your computer screen, such as on your back wall.
You should consider stylish and functional lights that give a luxurious touch to your home office and keep you motivated even after the sun goes down. Our electrician services can help you install any light fixtures you may need in your workspace.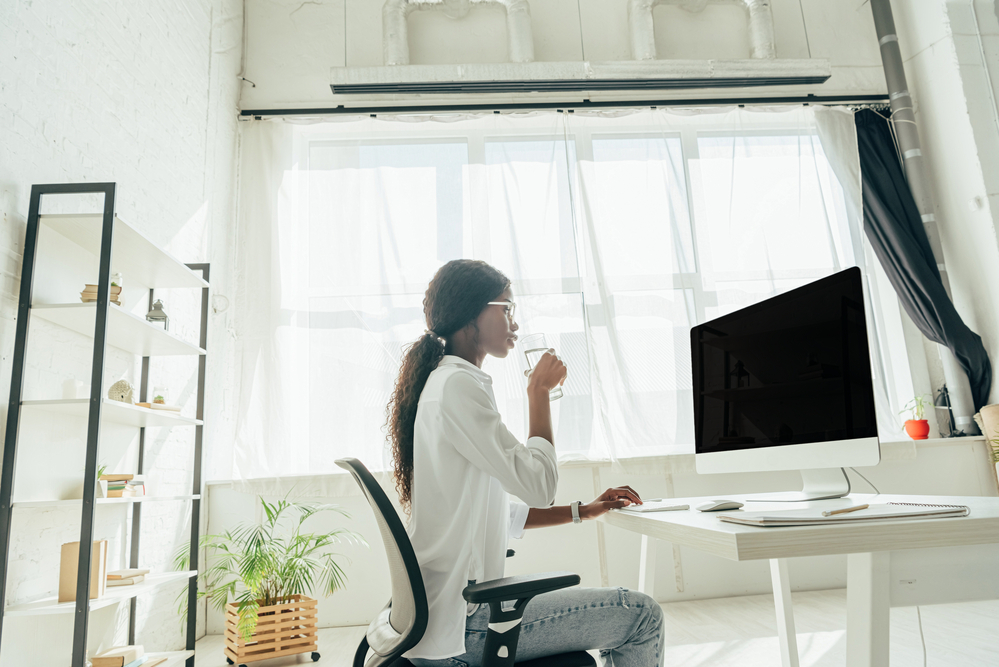 4. Install shelves and cabinets
Storage is key for a functional and organized workspace. Ensure that you have enough filing cabinets, shelves, or cupboards to contain everything you need to achieve professional success.
Storage ideas for a home office:
Create a paper filing system.
Utilize wall space for files.
Incorporate a pegboard.
Install a small shelf where you can place your books, catalogs, and magazines.
Smith Roofing can bring your storage ideas to life with our custom woodwork and carpentry services.
5. Personalize and accessorize
Accessorizing is often overlooked when it comes to designing a home office, though it is essential to design a space that inspires you! Personal touches make your productive day more enjoyable and brighter, whether it is your favorite paint color, a small plant, or a quirky piece of artwork.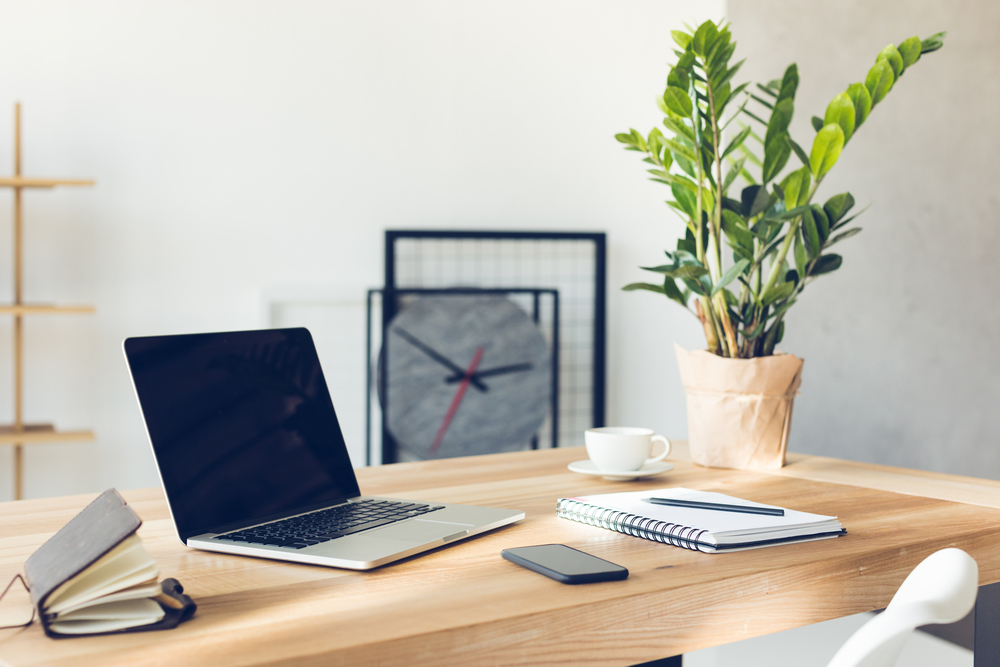 6. Create a brainstorming or reading corner
It is important to take some time off your busy schedule, to enjoy some refreshing and relaxing moments for yourself. Dedicate this time to a rejuvenating cup of coffee or that novel you've been meaning to read in a more peaceful corner of your home office. This space allows you to unwind, brainstorm for your next project or prepare for an upcoming meeting. It can be in the form of a comfortable chair by your window or a small table.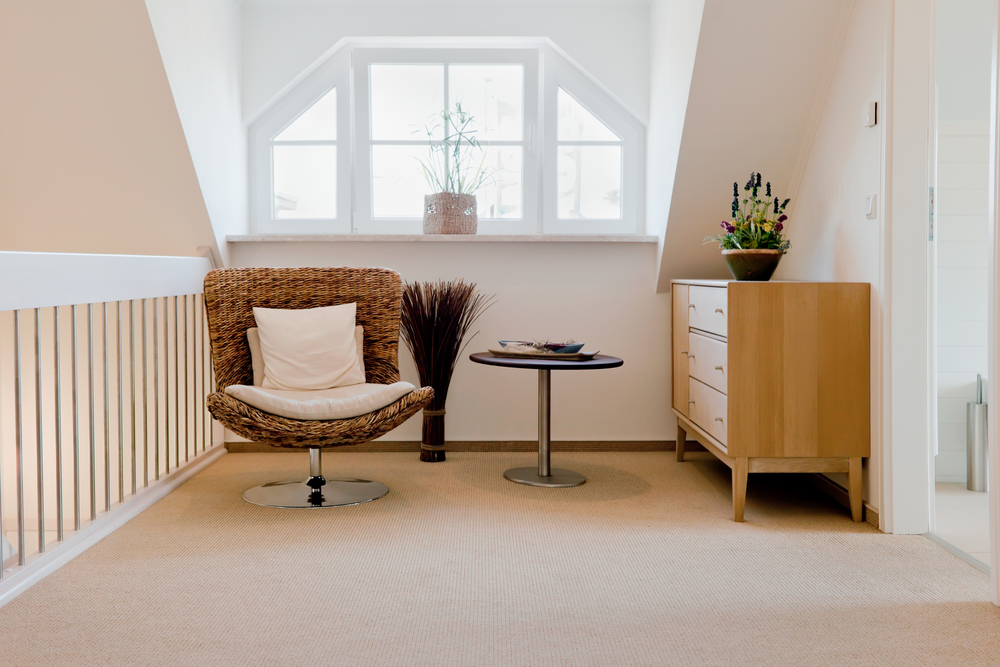 7. Hide your technological mess
Nothing looks more disorganized than the wires hanging from your desk and tangling in messy clumps.
Organize your wires with these tips:
Buy a wireless printer and a mouse.
Add a grommet to your table. Grommets ensure the safety and overall efficiency of different wires and cables.
Attach the visible wires to the downside of your table, or along with the downside of the leg.
Gather any loose wires together with a simple cord tamer.
Ready to design your home office?
By following the above budget-friendly tips, you can design an attractive home office that boosts your productivity and efficiency. Need some help? Contact us for furniture assembly, professional wiring, and carpentry services that can help you create a home office perfect for you.