A kitchen remodel can add a lot of functionality and value to a home. But the sink is often overlooked in kitchen remodeling plans. While one sink may seem very much like another, different sinks can actually offer different functionality options for a kitchen. Plus, the sink design can contribute to the overall look and feel of your kitchen. The following sink designs can make your kitchen both more stylish and more functional.
Elegant Kitchen Sink Storage Designs
Kitchen storage plays a major role in the functionality of the kitchen and sink storage is no exception. There's no reason for sink storage to be just functional. A sink can also contribute to the overall aesthetic of the kitchen as well.
Secret Storage Compartments
There are always kitchen items such as dish soap and sponges that need to be stored near the sink. However, these items aren't necessarily the most attractive kitchen features. Hidden storage compartments behind the sink can make your sink look more stylish while also providing the necessary storage space for items you need to use all the time at the kitchen sink.
Over-Sink Organizers
Another option for sink storage is an over-the-sink organizer. Drying racks and storage containers can either sit inside the sink, their edges resting on the sides of the sink, or they can be suspended above the sink. Even if you use a dishwasher so you don't typically need a drying rack, the storage space can be useful, especially if you don't have a lot of counter space.
Mobile Faucets
Not everything that needs to be washed conveniently or easily fits into the sink under the faucet. Having a faucet that can move around and stretch to exactly where you need it is now a must-have feature. It makes washing the dishes a lot easier to be able to rinse or wash larger items like pots and pans when the faucet can move to wherever you need it.
Gorgeous Kitchen Sink Materials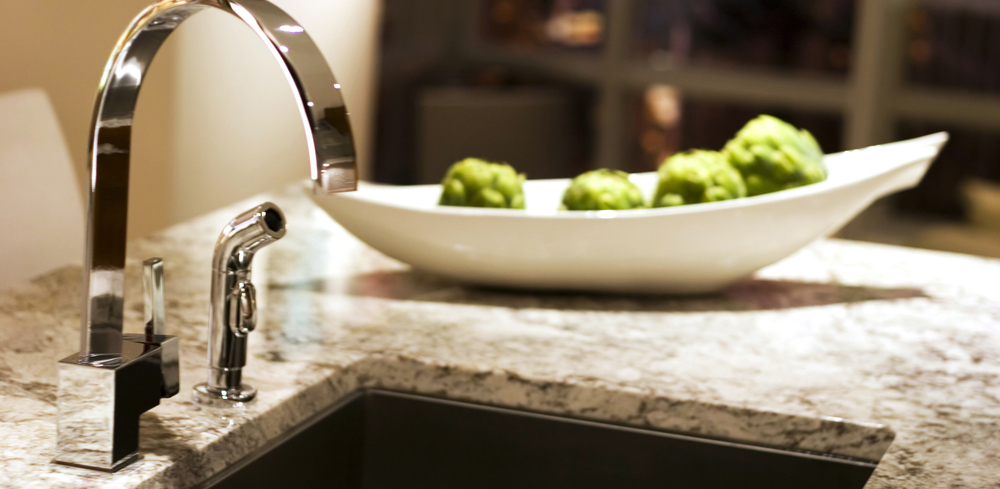 Most sinks are made out of stainless steel. While this material can go with just about everything, a different material could help your sink contribute more to the look of your kitchen. These gorgeous sink materials can help to make your kitchen sink stand out as a statement piece.
Hammered Copper
Hammered copper is a great kitchen sink option because it not only adds a splash of color to your kitchen but it also adds texture. The texture makes the sink look more antique than it actually is and adds a warm feeling to your kitchen. If you'd prefer to keep the sink shiny, you can polish it, but if you choose not to, the sink gains a lovely aged look.
Granite
Granite comes in a variety of different designs and colors. While countertops are often made of granite, the granite chosen for the sink can either match the countertops for a seamless flow or can differ so that the sink stands out.
Tile
Subway tile is popular for backsplashes, but it can also be used for the counters and the sink. Square-shaped white tile is also a nice design.
Soapstone
Soapstone is a sturdy material that can withstand a lot of daily wear and tear. Plus, stone has a unique look that can make the kitchen sink a statement piece.
Ready to Upgrade Your Sink?
Contact us for a personalized quote.