You're guaranteed to spend at least a little bit of time in your kitchen each day. This means you should think of functionality and aesthetics when considering kitchen enhancements.
If you've been keeping an eye on the trendy kitchens gracing home design publications, you'll know that neutral tones are in and hardwood flooring is out. Homeowners in 2020 were all about storage with 94% working on cabinets according to a Houzz Trend Report.
From warm tones to cool tones and farmhouse chic to modern industrial, we have all the inspo you'll need to help you get started on your next remodel. Love the space you live in with these 33 kitchen remodel ideas that will inspire you to get to renovating.
1. Shake It Up With Unique Backsplash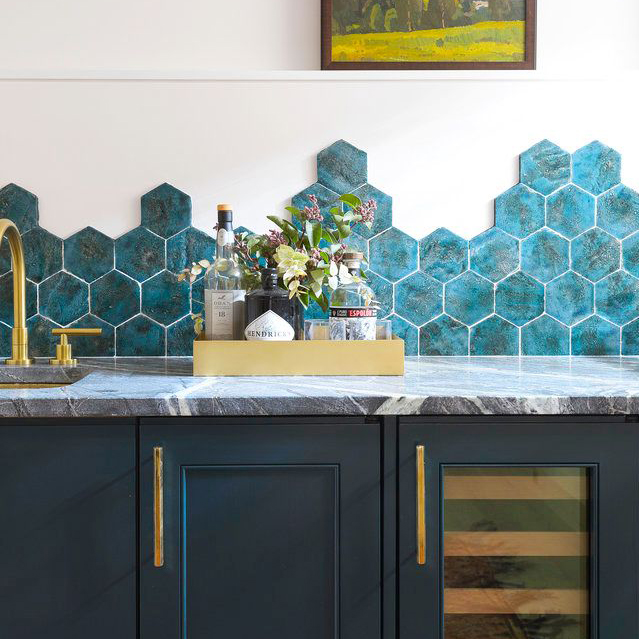 Photo by House Beautiful
Add a splash of cover with interesting geometric backsplash.
2. Install Additional Lighting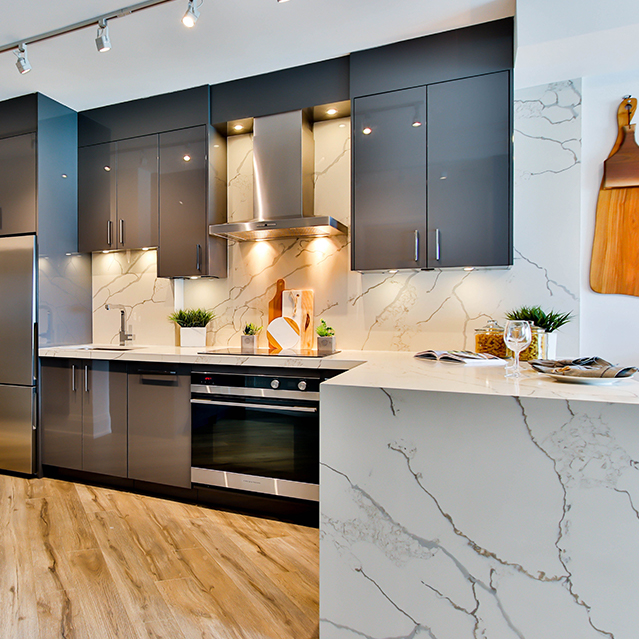 Make sure you get enough light in your kitchen with additional light fixtures.
3. Let In Light With Large Windows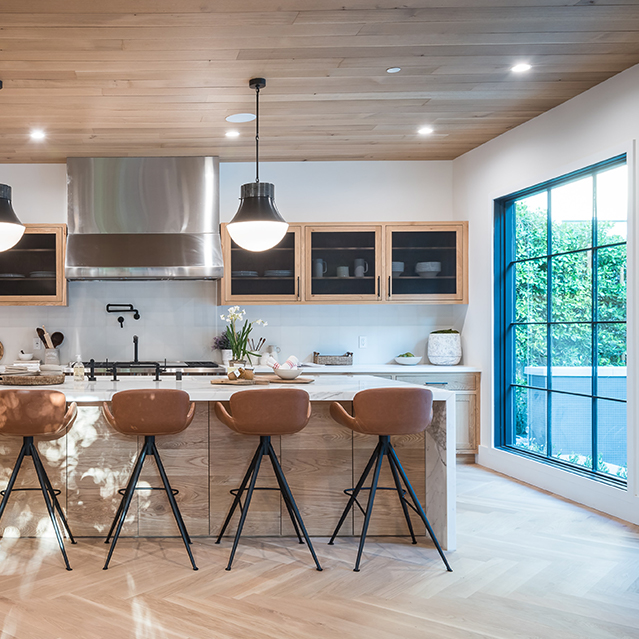 Turn to natural light to light up your space with large windows.
4. Go Neutral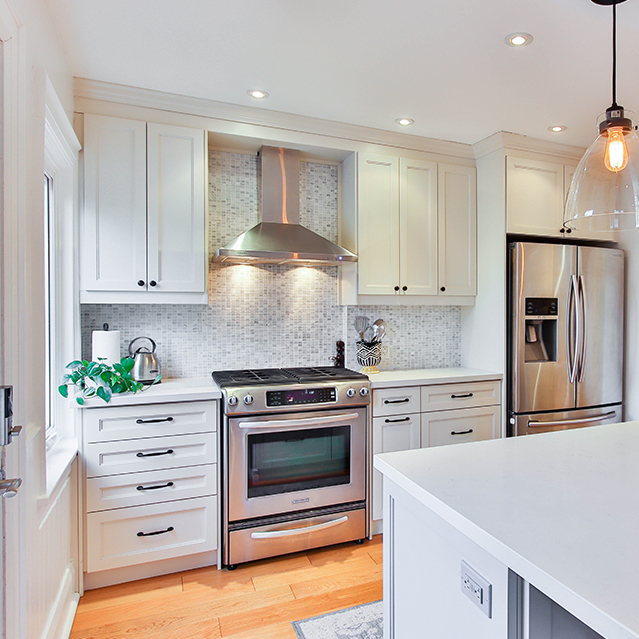 Neutral kitchen cabinets and backsplash give you freedom down the road to add splashes of color with small appliances, decor, and decorative hand towels.
5. Go For Grates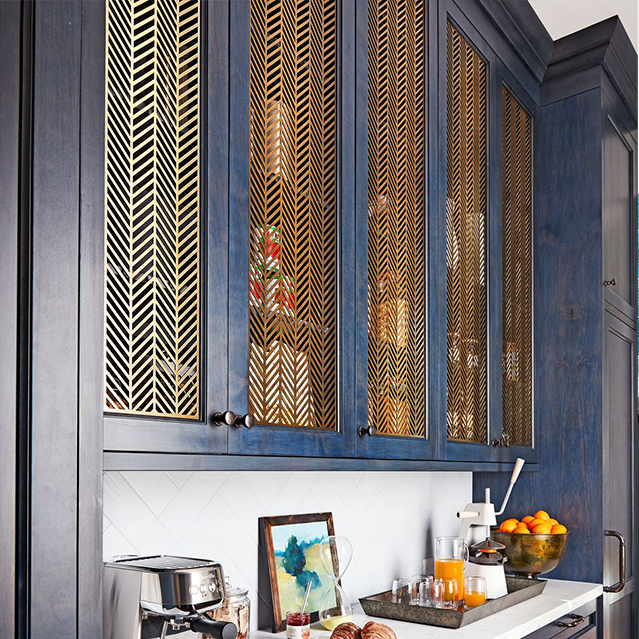 Photo by House Beautiful
Add cabinets that have grates on the front.
6. Add Brick Backsplash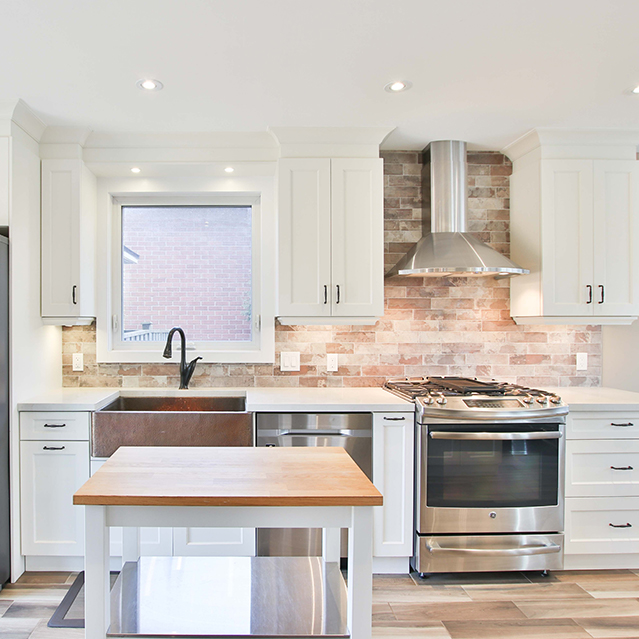 Add backsplash that appears like exposed brick to add character to a modern space.
7. Add Greenery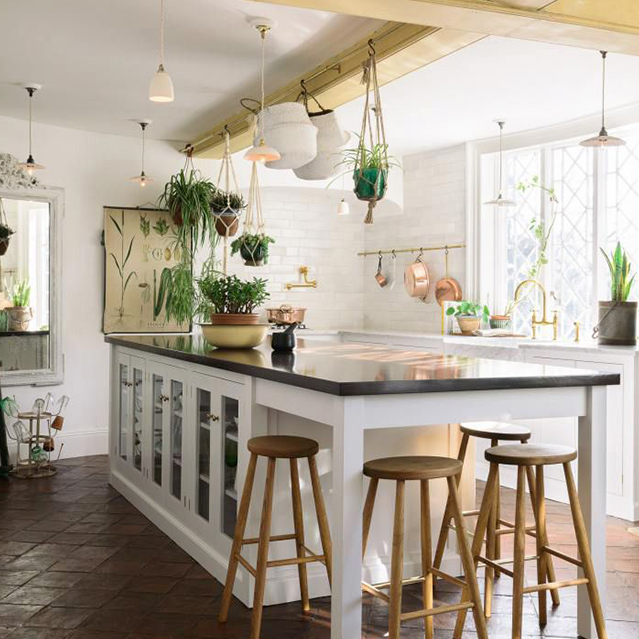 Photo by House Beautiful
Bring greenery into your home and bask in the benefits of houseplants.
8. Add Skylights for Extra Light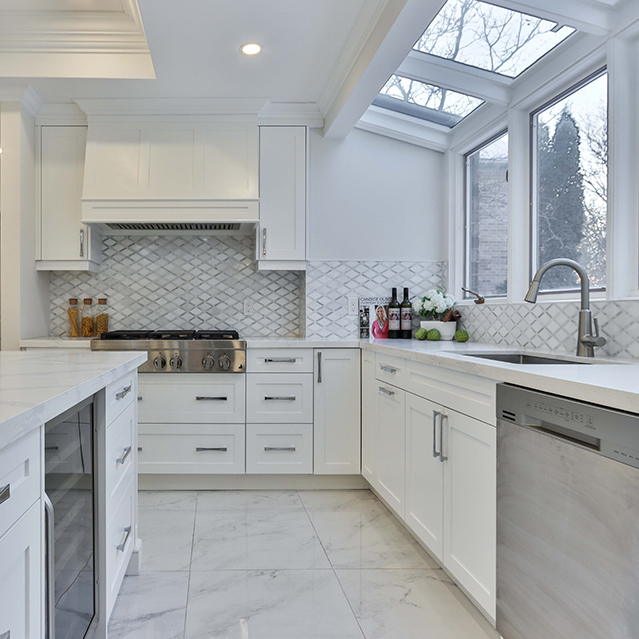 Pull in a little extra natural light with skylights.
9. Pick a New Color Scheme
Photo by House Beautiful
Change up your existing space with a bit of paint.
10. Don't Forget Storage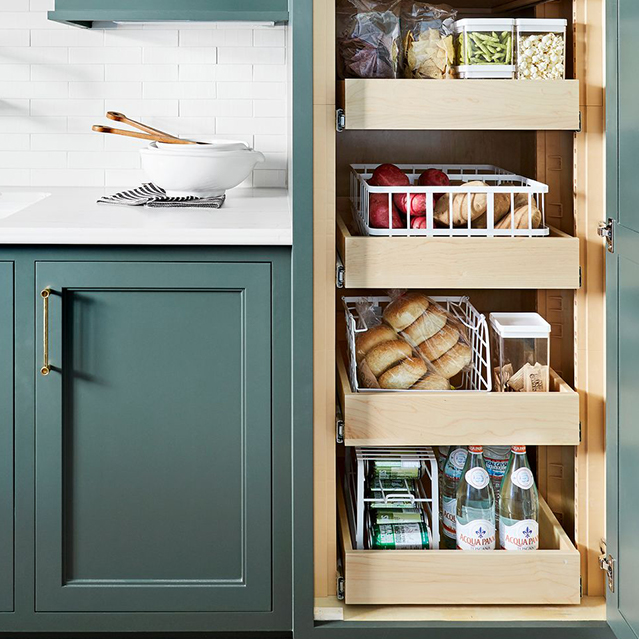 Photo by House Beautiful
Enhance your storage options for convenience.
11. Go Bold or Go Home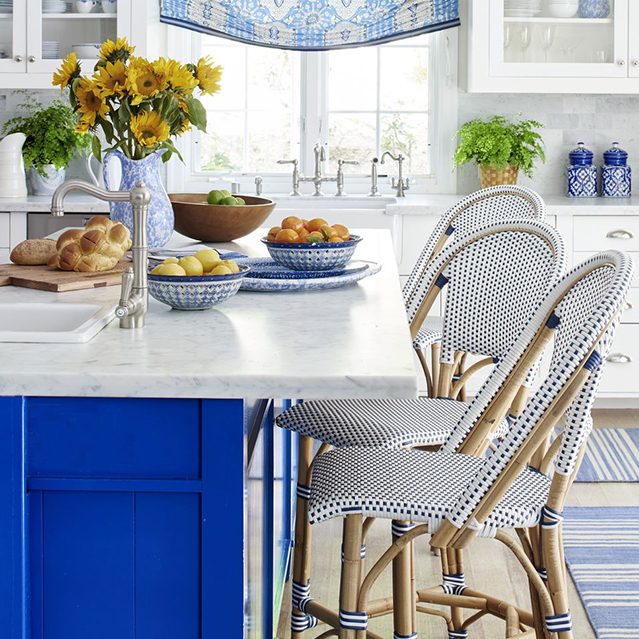 Photo by House Beautiful
Make a statement with bold blues.
12. Add Open Shelving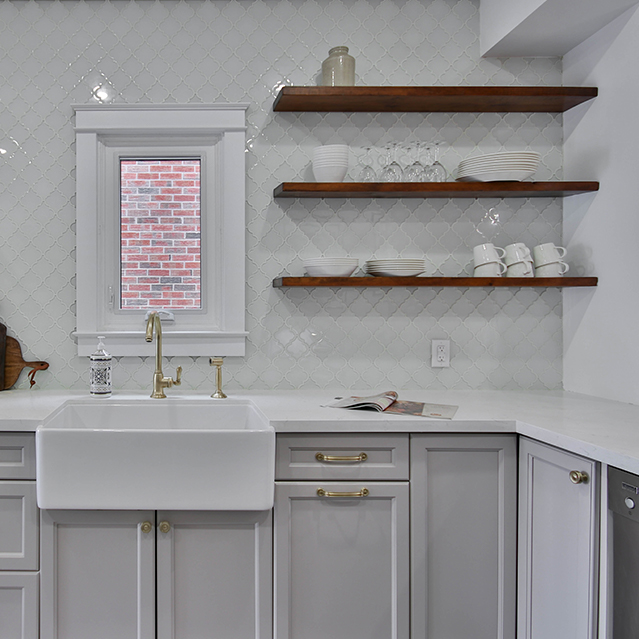 Add open shelving to display items or make often-used items more easily accessible.
13. Make It Cohesive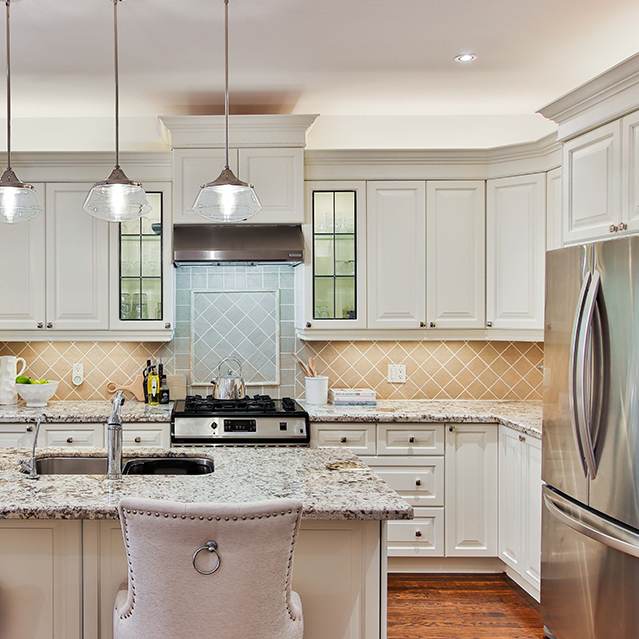 Whatever you decide to go with, make sure all the elements come together and look good when paired.
14. Play With Texture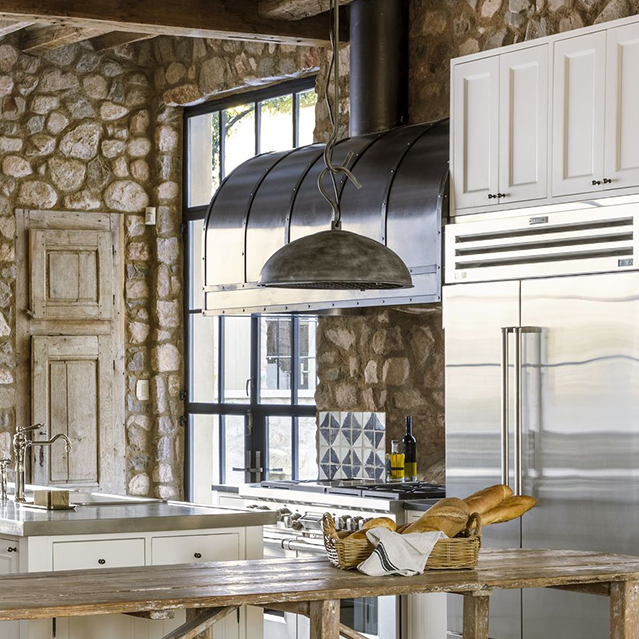 Photo by House Beautiful
Add exposed stone or brick walls.
15. Add Greenery Throughout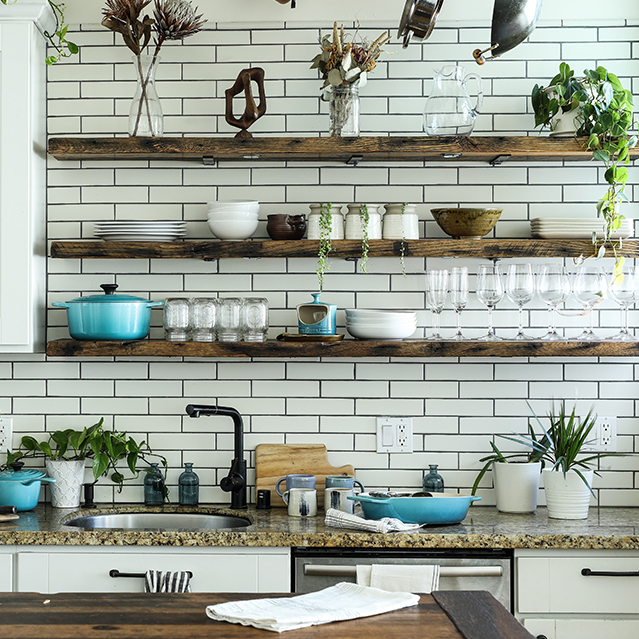 Adding greenery can brighten up your kitchen.
16. Add Gold Accents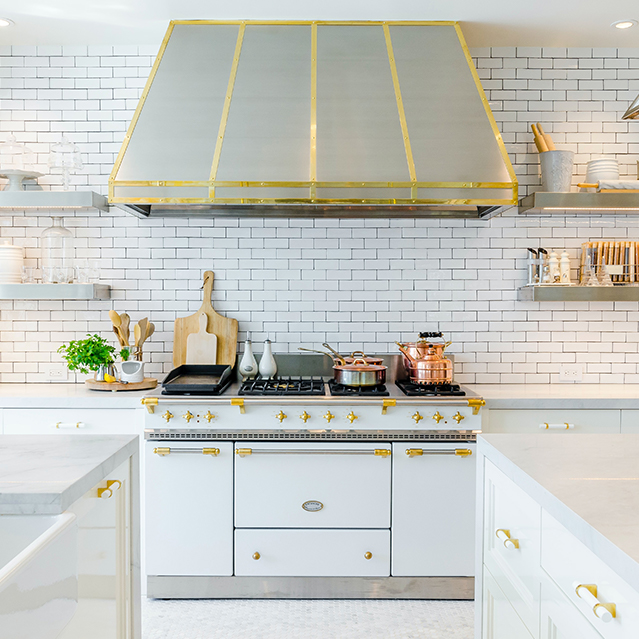 Gold accents are especially pretty when paired with white cabinets.
17. Try Out Functional Yet Unique Storage Solutions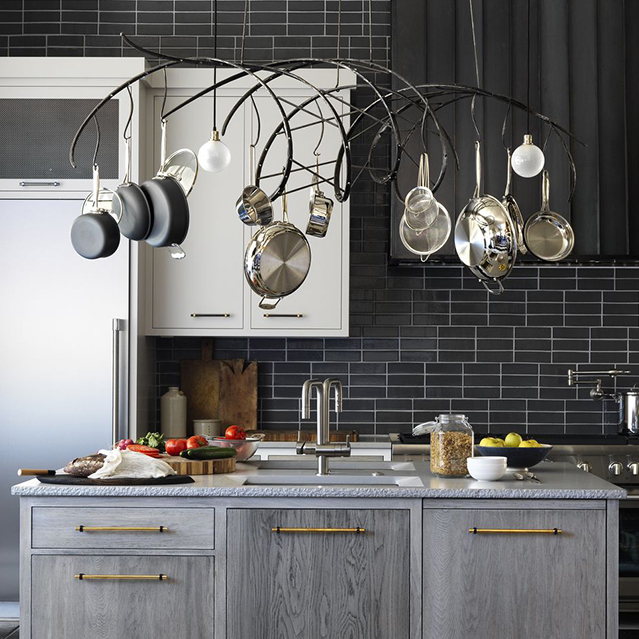 Photo by House Beautiful
Make a statement with your storage.
18. Add a Splash of Color With Bright Appliances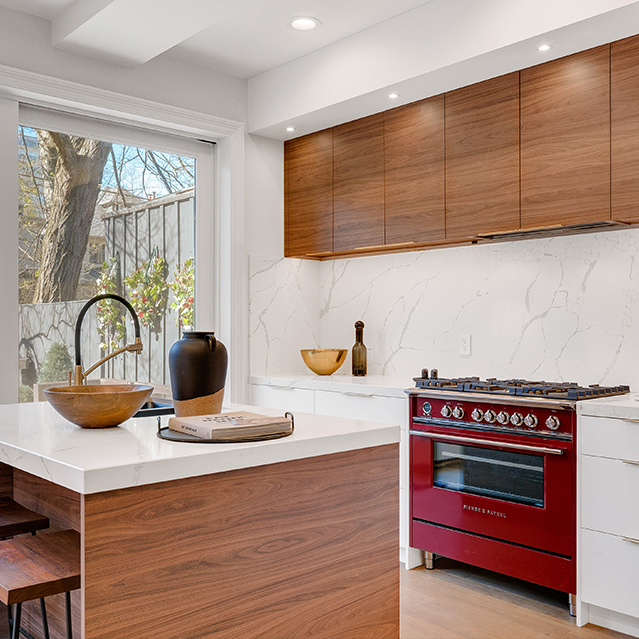 Your appliances can add (or detract) from your space. Choose wisely.
19. Add a Kitchen Island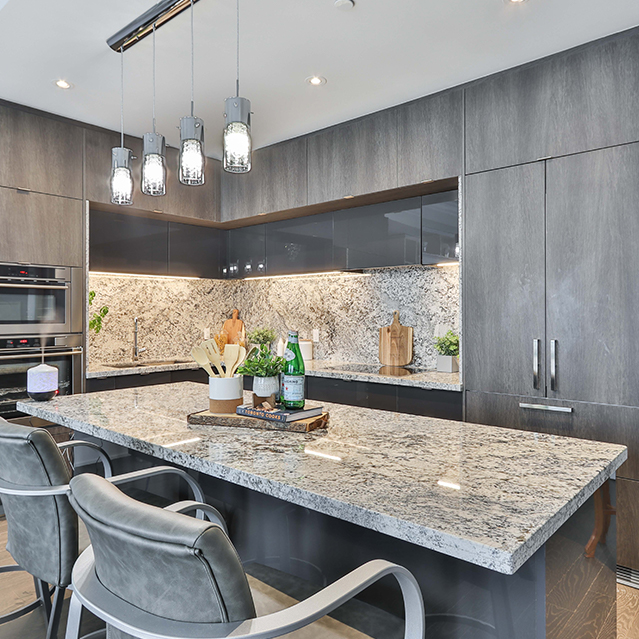 Add a kitchen island to your home for additional space to both prep and enjoy your meals.
20. Pick Interesting Cabinet Knobs
Cabinets can be enhanced with cabinet knobs. This is a more affordable way to make a small change in your kitchen that does a lot for the overall appearance of your space.
21. Add an Interesting Sink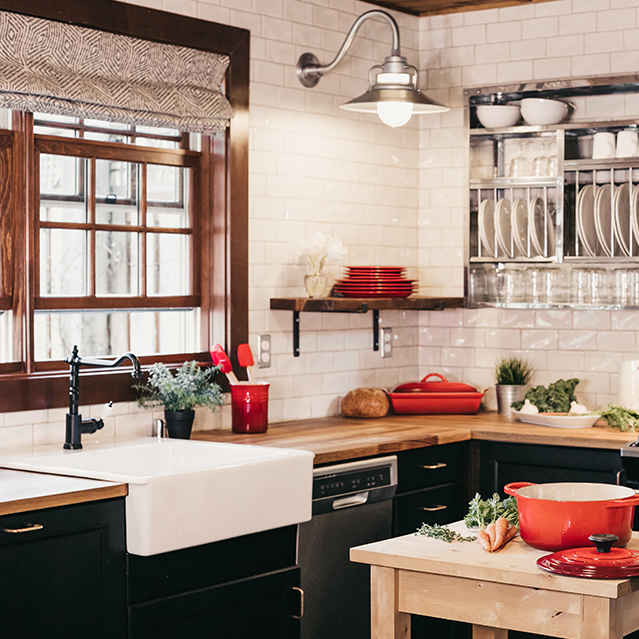 Pick a sink that fits the overall look you're hoping to achieve with your kitchen.
22. Install Interesting Light Fixtures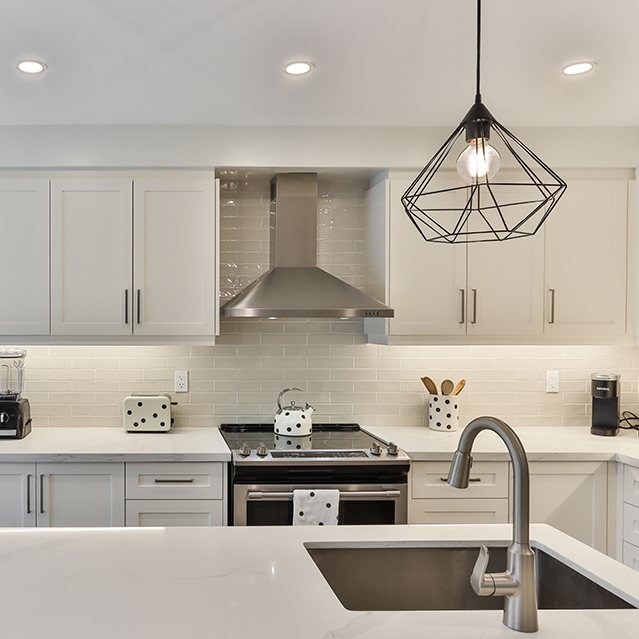 Interesting light fixtures can enhance the entire appearance of your kitchen.
23. Add Lighting to Your Cabinets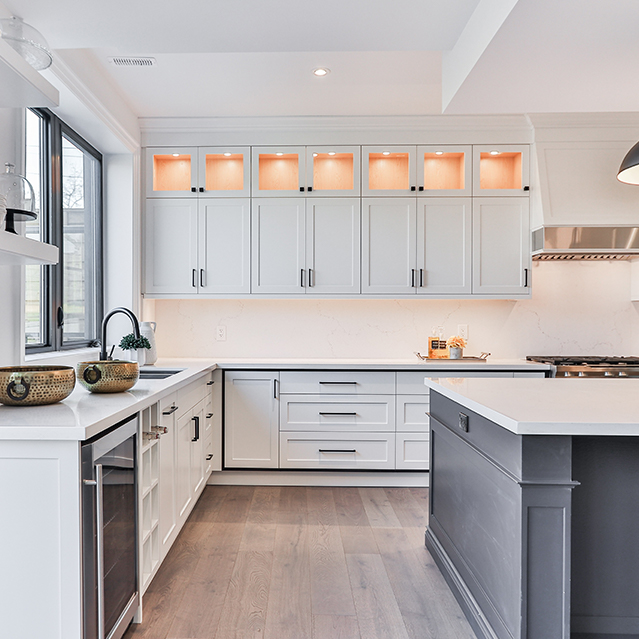 Lighting within cabinets can be used to not only make it easier to find items but can also be used to showcase items if the cabinet has a glass front.
24. Don't Forget Flooring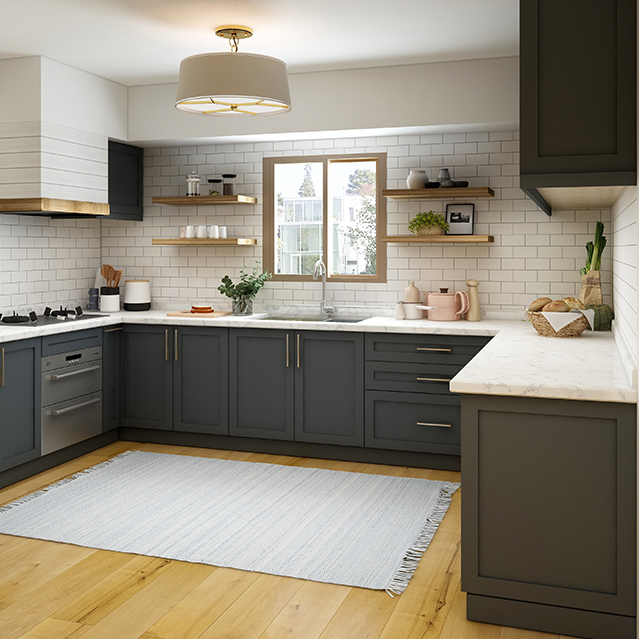 Consider your flooring and rugs when remodeling your kitchen.
25. Install Interesting Tile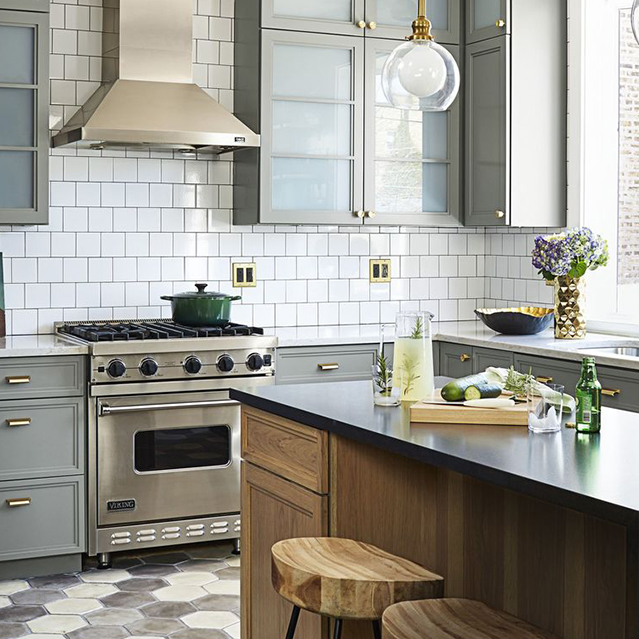 Photo by House Beautiful
Go for tile in your kitchen that is both unique but complementary to your cabinet choice.
26. Use Exposed Pipes as Functional Decor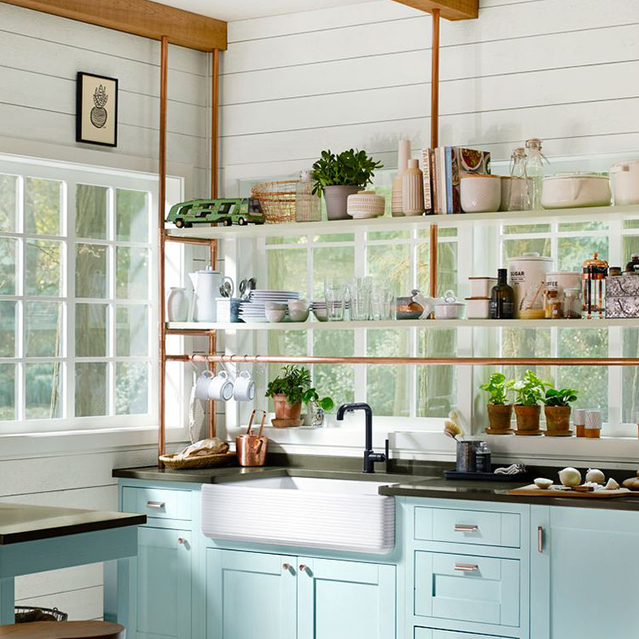 Photo by House Beautiful
Use exposed pipes to both create a specific look and feel in your kitchen and also act as a functional spot to hang cups.
27. Install Two-Tone Cabinets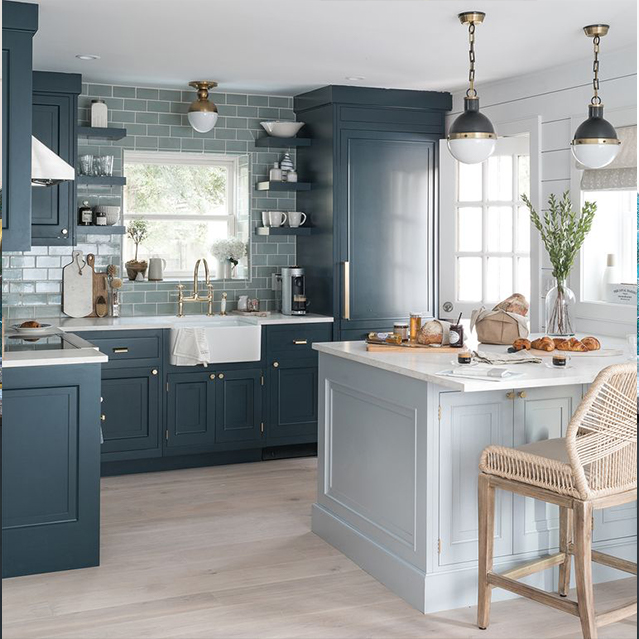 Photo by House Beautiful
Consider installing cabinets in two different colors that complement one another.
28. Consider the Kitchen Layout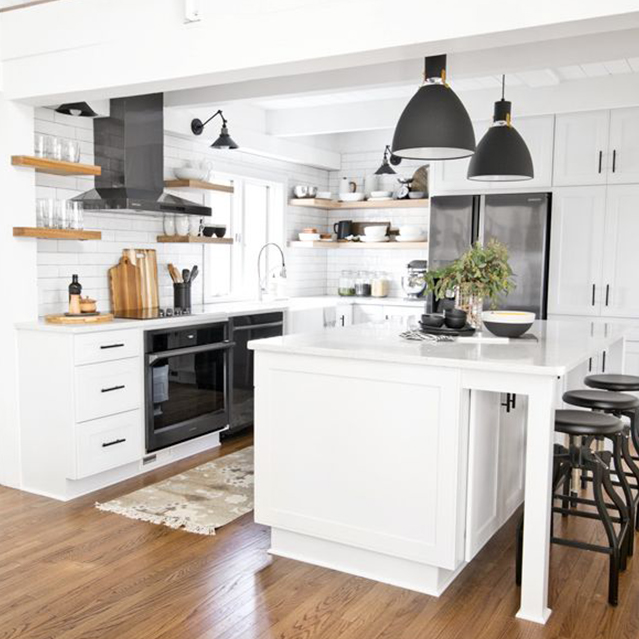 Photo by House Beautiful
A full remodel is the time to really consider your kitchen's current layout and make any changes you see fit.
29. Pick a Soft Green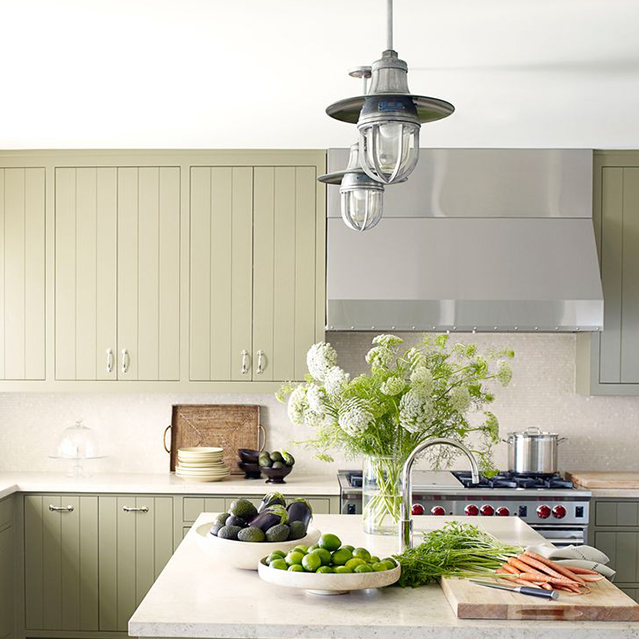 Photo by House Beautiful
Soft green colors can make a kitchen feel more relaxed and homey.
30. Fix Hard-to-Reach Cabinet Problems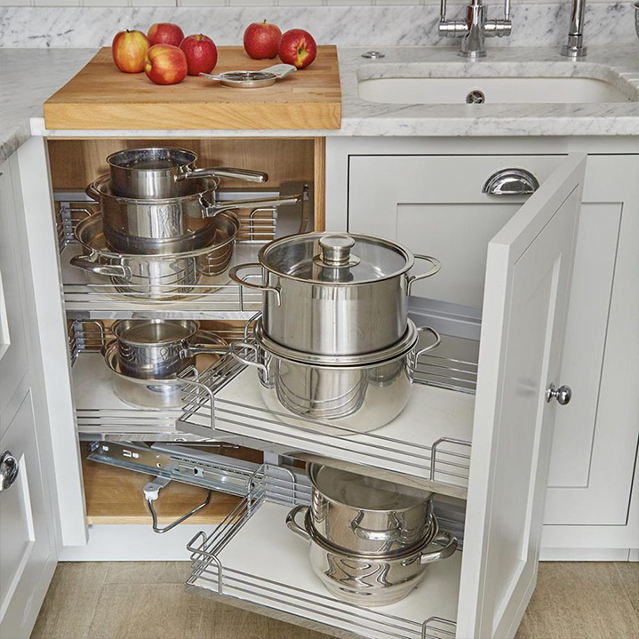 Photo by Ideal Home
Fix the problem of hard-to-reach cabinet spots with new cabinets.
31. Play With Texture and Color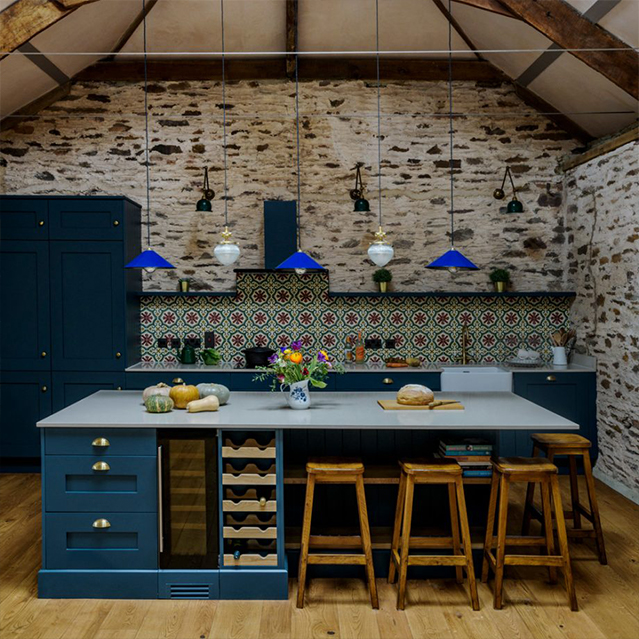 Photo by Ideal Home
Make an intriguing and unique space by bringing together unexpected textures and colors.
32. Include Clever Storage Fixes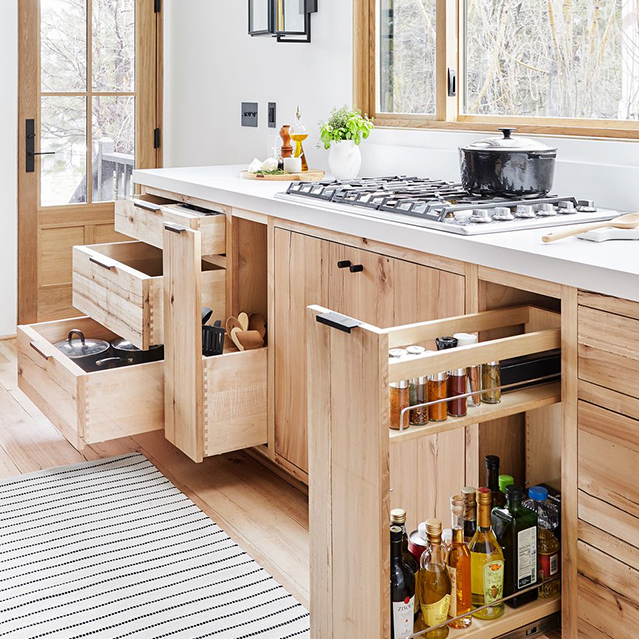 Photo by House Beautiful
Include clever storage fixes in your kitchen that make using your kitchen easier.
33. Select a Mint Green Cabinet Color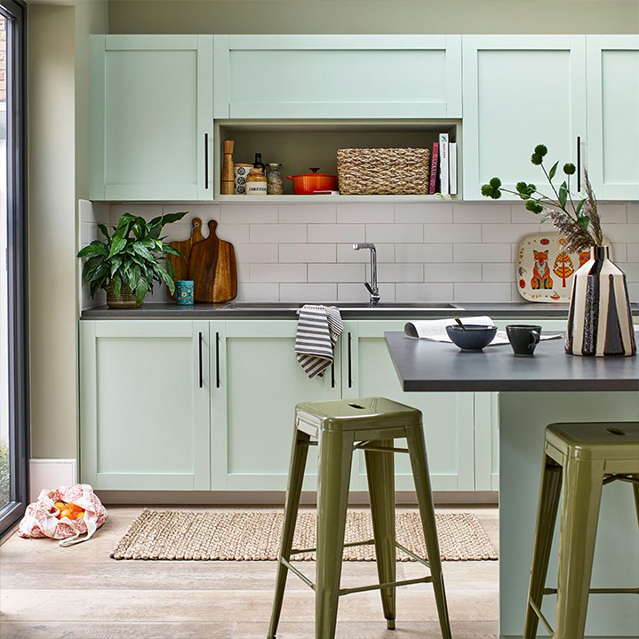 Photo by Ideal Home
If you don't like the look of the currently trendy gray kitchens, go for mint green instead.
Ready to Renovate Your Kitchen?
If you're planning to completely renovate your kitchen or you want to make minor changes, we recommend you hire a professional. A team of experts can give you the magazine-quality home finishes you're looking for. Our professionals can transform your kitchen to match your exact vision. Contact us today for a free kitchen remodeling quote.