How to Add Space to Your Home Without Building an Entirely New Addition
12 alternatives to building an addition
If you've ever thought about adding space to your home but were intimidated by the idea of building an entirely new addition, don't worry. Here are some ideas on how to expand your home without an addition.
Alternative #1
Dormer
A dormer is a windowed structure that extends vertically off of the roofline of a house or other building. It typically looks like it's part of the main structure but isn't actually attached to it. It can also function as storage space for your attic, which could be finished and used as living space.
Alternative #2
Sunroom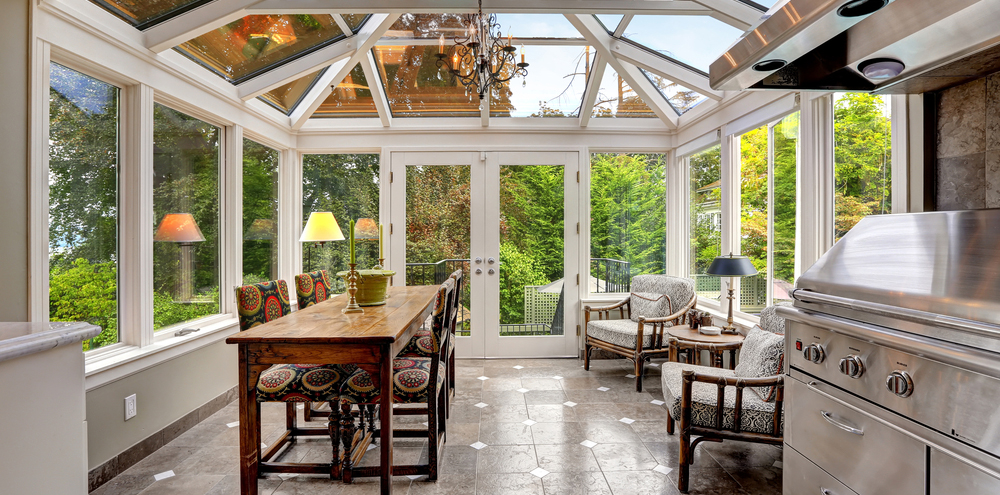 Sunrooms are typically glass-enclosed rooms that let in light and fresh air while cutting down on heat transfer through windows because they have minimal wall partitions compared to other parts of the home. They're sometimes referred to as solariums if their purpose is primarily for sunbathing or growing plants. A sunroom can be a great first step towards a full addition.
Alternative #3
Porches and Patios
A porch or patio can actually function as an expansion of your home since they're typically attached to the main structure. A larger porch/patio with room for furniture and accessories, or one that is designed as a sitting area, could be used as living space during nice weather. If you already have a deck, it may only need a few modifications to bring it up to par with other areas of the house. Even adding an extra chair rail around the deck's perimeter would make it seem more like a finished space rather than an afterthought.
Alternative #4
Home Office or Den
This gives any potential new homeowners peace of mind: The house they buy doesn't have a closet or other nook that would make an awkward office space already. You could always create an office/den in your main living area, like this one here. Ideally, it should be located away from noise sources like the kitchen and TV area, but still accessible if you need to run upstairs for something quickly.
Alternative #5
Dining Room Extension
Do you currently lack dining space? Why not give your current dining room an extension? It's common to see older homes with smaller dining rooms where the table is pushed against the wall with no room to spare on either side. If your home lacks adequate storage space, having additional cabinets built beneath the window would provide ample storage without eating up much-needed floor space.
Alternative #6
Conservatory
A conservatory is similar to a sunroom, except it typically has no ceiling and attaches to the rear of the house. They often contain heaters and air conditioners to make them comfortable places to take shelter from extreme weather. They can also have glass panels built into their ceilings for extra light.
Alternative #7
Deck With A View
This isn't just a great home addition idea–it could be a reason for you to move! You might not even need additional space when you live in one with a view like this. Some people have decks that are big enough to host parties on, but others may use theirs simply as an outdoor dining area or place where they can relax in peace without having lawn equipment in their line of sight.
Alternative #8
Enclosed Porch
You could create a functional porch that still has the appearance of being a part of your home by enclosing it on all but one side with glass or screens. If you can't afford to build an entirely new addition, this may be the next best thing when you consider the impact it has on the exterior aesthetics of your house. You'll know when your guests are arriving because they'll be able to see them through the glass wall as they approach from across the yard. This also keeps critters and bugs from entering without going through an additional door first, which means less work for you!
Alternative #9
L-Shaped Space With Proper Wall Partitions
If your current home lacks storage, room for gatheringss, or space for guests to sleep if they stay over, an L-shape space may be the next best option. There are many different ways you can divide this type of addition's living area so it doesn't feel like a large multi-purpose room. You'll still have options for where your bed could be situated–away from noise sources if you prefer that–and plenty of wall space for shelving and cabinets where needed.
Alternative #10
Hallway Conversion Into A Bedroom
If your home is small enough that you're unable to fit much more than a hallway and bathroom, why not turn it into a bedroom? This will probably require some creative furniture arranging because closets aren't usually included in hallway conversions, but at least you'll have a dedicated space to sleep in when guests are over instead of having them make themselves comfortable on the couch. If you're looking for more space, this may not be the best option because hallways tend to be narrow and don't leave much room for two people to pass without one of them having to get out of the way.
Alternative #11
Basement Addition


Basements generally have high ceilings which can give your home plenty of extra storage potential if it doesn't already exist. The thing is, basements aren't usually the most ideal living area unless they've been improved upon with insulation or drywall. This is due to all the dirt around–potentially wet dirt–which makes it easier for mold to form and can even attract rodents that previously weren't a problem. You don't want to build an additional living space that's going to be unhealthy for you day after day, so make sure your home gets a good clean before deciding its final layout. Finishing your basement will add more usable space to your home without having to build an entirely new addition. Plus, there are many clever and useful ways to use a finished basement.
Alternative #12
Finish Your Garage
If you're hoping to sell your home in the future, you may want to consider turning what's currently considered an unimportant garage into a cozy family room. Your new neighbors will be very happy not having to brave the elements every time they feel like spending some time with their loved ones! This is also an excellent option for people who live out of state and don't have any relatives around–you'll get all the benefits of keeping up on traditional friendships without losing touch with everyone else.
Let Us Help You Transform Your Home
If you're ready to start the project of transforming your home, it may be beneficial to hire help. A handyman can ensure the project is done professionally, thoroughly, and quickly. Contact us for a quote on your next home renovation project.